Navi Pillai's Controversial Picks: Sandra Beidas – South Sudan's expelled UN officer & Dame Silvia Cartwright to lead investigation on Sri Lanka
Posted by Editor on June 9, 2014 - 7:55 am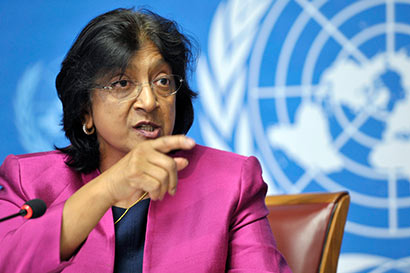 When the country given independence in July 2011 by the West declares a UN Human Rights Officer, a persona non grata and expels her from the newly independent country in 2012, it is unusual news. Her crime, South Sudan declared was 'unethical reporting' as she had doctored records. Somalia too had banned 2 officers working for the UN Human Rights Commissioner – Sandra Beidas was one. Juxtapose that with Navi Pillai's decision to appoint the same person and we have a foregone conclusion on where the investigation on Sri Lanka is likely to lead. To add to credibility is the appointment of Dame Silvia Cartwright who was a judge on the Khmer Rouge Tribunal  to head the investigation against Sri Lanka. Defense lawyers sought her removal as she had been having secret meetings with the prosecutors. It would be nicer if the UN giving itself mandates to conduct investigations upon targeted countries were to appoint people with clean records and people that the country and its leaders can respect. It is unfair and unjust for the UN to appoint officers with tainted past trysts and publicly condoned backgrounds for roles that require high standards of professionalism.
Expulsion history of Sandra Beidas
Expelled from Somalia: Sandra Beidas working for Navi Pillai's office was banned by Somalia in 2011.
"The ministry… has the honour to convey the decision of the Transitional Federal Government of Somalia to declare Mr Scott Cambell and Miss Sandra Beidas …persona non grata," the statement said. The Somali Government statement went further "Our country needs to have the ability to protect human rights but the barriers we are facing… include the High Commissioner for Human Rights who failed to assist us to improve rights agencies and law enforcement institutions in the country," Sahra Mohamed Ali Samatar, minister in the prime minister's office.
This was how Somalia expelled Sandra Beidas chosen by Navi Pillai
Expelled from South Sudan: The expulsion of Sandra Beidas in 2012 following her expulsion from Somalia was really no surprise. The accusation was no different to what Somalia accused her of too. Two records of misappropriation in UN roles does not really give Sandra Beidas the right to project herself as the know-it all of Navi Pillay.
Sandra Beidas roles within the UN system
Prior to joining the UN, Beidas was working for Amnesty International which adds to her controversial past records.
January 2006 – Head of Protection and Reporting Section – Office of the United Nations High Commissioner for Human Rights in Nepal (OHCHR-Nepal)  
UN Mission in Haiti – 120 team comprised representatives of 20 countries following ouster of President Aristide in 1991 and setting up of the UN mission after US intervention. Beidas handled peacebuilding efforts in Haiti.
UN Human Rights office in Somalia – Susan headed the UN Human Rights political office in Somalia
UN Human Rights office in South Sudan
Beidas in Nepal:
In Nepal, her role was to promote a Truth & Reconciliation Commission – a TRC in her words was "an independent, impartial and competent body, free of government interference".  "The creation of TRC is a very important initiative that can assist a nation in building a culture of peace and reconciliation based on truth, justice and reparation. It should provide an opportunity for the people of Nepal to address the past so as to identify the root causes of the armed conflict, and also an opportunity for meaningful justice for the thousands of victims of the violence, and their families by bringing to account the perpetrators of serious human rights violations and violations of international humanitarian law."
There are Governmental advisors whose strategy is nothing but 'appeasing' to the other side who are pushing the Government to commit to a TRC for Sri Lanka, what the Government should know is that none of the TRC's held thus far at colossal financial burden provided any Truth or any Reconciliation.
The fact that Beidas herself reiterates that the TRC could 'also investigate other issues such as social, economic and cultural injustices, discrimination, internal displacement, destruction of property, for example the demolition of religious sites or schools. " will show that she will use her position to not only push the Government to foolishly accept a TRC but ensure that all the non-last phase related allegations against Sri Lanka are also plugged into the TRC.
What Sri Lanka should do is to conduct an investigation that covers the entire spectrum of the conflict while also including how the armed conflict started, who were the players involved, who financed/supported and trained armed militancy – people need to know how LTTE terrorism emerged and who were involved (foreign & local)
The TRC in reality takes the form of the Christian Inquisition and the concept of Born Again, accepting one's sins and being forgiven.
Beidas herself says of the Nepal TRC "The law says if the victims reconcile with the perpetrators then there is no prosecution even if s/he has committed rape and torture, and murder".  The TRC is a carrot to draw perpetrators to come forward even if they have violated human rights, committed genocide or any other form of serious crime and tell what they have committed and be granted amnesty. As for the victims if they are willing to 'reconcile' with their enemy they are given compensation. In other words the victims will get compensation ONLY IF they accept the apology and forgive the perpetrator. Otherwise the victims don't get anything! What the TRC in actual fact is AMNESTY for the perpetrators!
In South Africa, none of the whites came forward to accept their crimes and only a handful of Africans came forward making a mockery of the South African TRC.
On what grounds of moral superiority can Navi Pillai stand up to defend the investigators to Sri Lanka who has been expelled twice from 2 countries for writing false reports while Dame Cartwright has faced calls for her to be removed for bias as well?
Sri Lanka should make objections on the appointments at least for the record for it becomes futile to keep silent when glaring misappropriations are taking place and then complaining afterwards. It becomes no different to endorsing Navi Pillai's second term (following the advice of the appeasers in the Government advisory team) when that compromise left Sri Lanka in worst fate. The Governments of South Sudan and Somalia can be approached to give an account of exactly why Sandra Beidas was given 24 hours to leave their countries and why Cambodia made calls to remove Dame Cartwright.
Moreover what needs to be said is that the mandate for the investigations is between 2002 and 2009. Nothing outside this period can be investigated and it is good for Government politicians and public officials to be aware of this as well even if Sri Lanka does not support or cooperate in the investigation.
This comment taken from www.penhpal.com aptly puts into perspective what everyone's opinions about International investigations and Tribunals are all about
"However, the real scandal may be the fact that most of these lawyers and judges, like Dame Silvia, have personally benefited to the tune of hundreds of thousands of dollars in salaries and innumerable perks – such as being paid tax-free – and lived like royalty in a country that is one of the poorest in the region".
UN must realize that commentaries against their appointees come with good reason and by disregarding valid issues and conflicts of interests, UN is showing the world that it cares too hoots about what the people of sovereign nations think. Now, that is not the way to go about peacebuilding and all the other fancy terminologies UN officials love to preach to the world about through their workshops and reports. Therefore, the UN General Assembly members in particular must not sit silent and begin to make their objections known to the UN systems before the system ends up taking over the governing rights of sovereign nations because of their silence.
Calls to dismiss Cartwright from Tribunal – http://www.stuff.co.nz/world/asia/6846841/Calls-to-dismiss-Cartwright-from-Tribunal
– by Shenali D Waduge
Latest Headlines in Sri Lanka