New legislation to open Lanka to ICT experts
Posted by Editor on October 15, 2017 - 8:27 am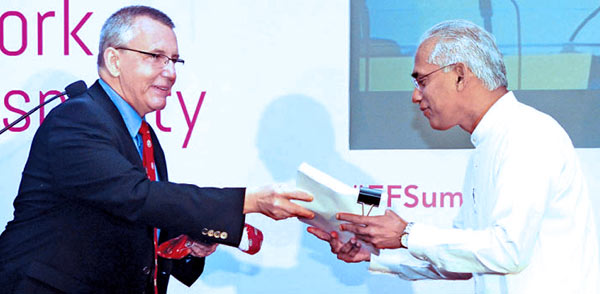 Sri Lanka would soon introduce legislation for the Immigration Controller to act as the sole authority to expedite bringing in foreign experts to be employed in the ICT sector in Sri Lanka, said State Minister for Finance, Eran Wickramaratne.
"Sri Lankan ICT companies at times need foreign ICT exporters to work for them to fine tune some of their projects and there is tremendous red tape to get this foreign ICT consultant to Sri Lanka. The Minister was speaking at a forum promoting economic freedom, organized by Colombo-based Advocata Institute and Fraser Institute of Canada.
Firstly the company concerned has to make an application to the relevant Ministry then to the ICTA Agency and then the Department of Immigration. "This takes a long time and now we have come up with a system where the Immigration Controller would be given the powers to approve a working Visa."
The industry will be asked to give input on a list of skills that they would need which would be revised annually. The Minister said that soon this proposal would be forwarded to the Cabinet for approval.
Minister Wickremeratne said professional bodies of doctors and lawers were against any relaxation of rules and the government did not intend to include them in the easy list.
Meanwhile Michael Walker Cair of Economic Research, Fred McMahon said that economic freedom is key towards a prosperous society. "However I am sad to say that the Economic Freedom indicator for Sri Lanka out of 159 countries has dropped to 94 and this is not a good for a country like Sri Lanka." " I think the best way to overcome from this is to increase more exports and woo more foreign direct investments. The best example for this is Singapore where the country from a swamp was converted to a developed country in four decades."
Cair said that another reason for it success is that the limited number of public servants in Singapore who were paid well and also the highest paid Prime Minister in the world (annual salary around US 2 million) which in turn has resulted in a uncorrupt society.
For this a disciplined society minus corruption is needed but this still seemed a tall order for Sri Lanka. "However I am happy to see that the Sri Lanka Judiciary is moving on the right path."
He also said that the state sector employees have to be trimmed and Sri Lanka State sector employees numbering over 1.5 million makes it a the third heavily populated public scoter in the world after Jordan and USA.
Asked how the government hopes to trim this figure Minister Wickramaratne said that sincerely he does not have an answer to it.
(Source: Daily News – By Shirajiv Sirimane)
Latest Headlines in Sri Lanka