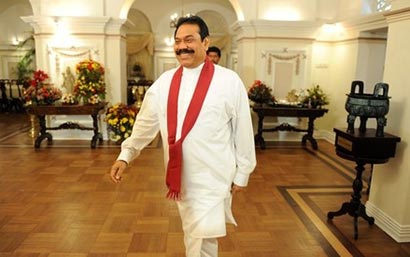 Join in unity to realise goals – President
We step into this New Year as a country that has gained immense progress in freedom, democracy and the tasks of development, and one that has successfully faced up to many challenges before it, President Mahinda Rajapaksa said in a New Year message.
Full text: "Similarly, we move into this New Year as a country that has won the confidence of people both at home and abroad. Therefore, the year dawning today will seek valuable work for the progress of democracy, equality among people and important aspects of development in our Motherland.
"It is my belief that all communities will join in unity with the common purpose of success towards realising these goals.
"The achievement of success in all the tasks before us with determination, commitment and courage is my wish for our Motherland in the Year 2013."
---
Opportunity to further entrench co-existence – PM
I believe that the dawn of a fresh year provides a valuable opportunity to further entrench co-existence, prosperity and dignity of the motherland, Prime Minister D M Jayaratne said in a New Year message.
The message: "As a nation, it is our prime aim in the New Year to conquer expectations and goals that we have not been able to achieve so far. Although we have made rapid progress in achieving physical development, I believe that developing rich spiritual and moral values within ourselves too should be one of our main goals.
"For us Sri Lankans who achieved peace through determination, the New Year brings the responsibility of continuing to work in unity to further strengthen the country's future stability. For this purpose, we should all join hands irrespective of differences.
When the country becomes strong, it will give us the strength to defeat all conspiracies.
"Both individually and as a nation we have numerous challenges ahead of us in the New Year.
As a government we have already taken steps to supplement facilities needed to overcome such challenges.
In our quest to be the Wonder of Asia, 2013 will be a decisive year.
President Mahinda Rajapaksa introduced major development programmes to further strengthen sustainable development in the country.
The government under the leadership of the President is also working on further developing infrastructure.
"My firm wish for the New Year is for all to flourish under one flag.
"I wish all Sri Lankans a happy New Year."