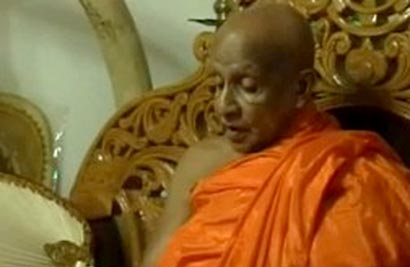 Asgiriya Chapter Maha Nayake Thera the Venerable Udugama Sri Buddharakkita Thera yesterday underlined the statement made by the Mahanayake Theras against the impeachment motion on the Chief Justice. He said if there was a law in the country it should be applied equally to all.
Speaking to US ambassador Michele J. Sison who paid a courtesy call on the Prelate, he said some people in the country were accusing others when they could not fulfill their personal agendas.
"There should be an opportunity for those who act in a fair and just manner to carry out their duties without let or hindrance," he said.
Ms Sison visited the historic Dalada Maligawa and paid homage to the Tooth Relic before her courtesy call on the Mahanayake Thera.
She asked the Thera about a statement on the Impeachment of the Chief Justice and excessive borrowings .made by the Mahanayake Theras. It was published in the English daily newspapers
The Mahanayaka Thera said they had issued the statement to the effect that all were equal before the law of the land, but it had become apparent now that some were using it for their own agendas.
He said when politicians find it difficult to achieve their personal agendas they try to bring disrepute to those who abide by the law.
"It is not fair and therefore we issued a joint statement as the Mahanayaka Theras of the Three Nikayas.
We observed that some were bent on creating a situation to embarrass those who uphold the laws of the country," the Mahanayke Thera said.
He commended the assistance rendered to Sri Lanka by the US government and extended his blessings and good wishes to President Barack Obama who had been re-elected for a second term.
"The US government has helped our country in the past and does so in the present. We hope it will continue it in the future as well," he said.
The ambassador responded by saying the US helped Sri Lanka during the tsunami and there exists a cordial relationship between the two countries.
She said the US for its part would continue maintaining the good relationship and added that she appreciated the sentiments expressed by the Mahanayaka Thera.
Ms. Sison also met the Diyawadana Nilame Nilanga Pradeep Dela at the precincts of the Dalada Maligawa.
Courtesy: DM Online