Nursing is the only service not tarnished with bribery allegations says President Rajapaksa
Posted by Editor on November 9, 2011 - 6:26 am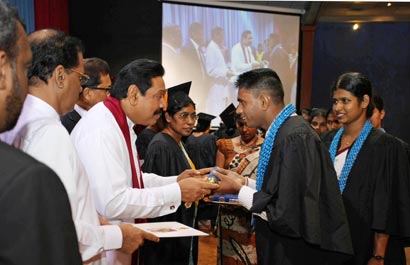 Onlanka News – By Janaka Alahapperuma
(Pix by: Chandana Perera )
President Rajapaksa said the nursing community that their service is the only public profession which is free from allegations of bribery and corruption so far. The President made this remark at the ceremony organised by the Ministry of Health to award certificates to the first batch of Nursing Diploma graduates at the Temple Trees today on 08 November.
President Rajapaksa further said allegations on bribes were not leveled against the nursing service and therefore requested them to stay determined to protect the dignity of the profession. The President pointed out how a person is rendered destitute when hospitalized. Every one of us how powerful we are as patient places full trust in doctors, nurses and the hospital. The President told the nurses that whatever problems they have nurses should approach the patient with a smile. He requested the newly appointed nurses to serve the public to the maximum, safeguarding their dignity and recalled the significance of the nursing service. The government has increased the number of public employees up to 1.3 million, although some governments tried to decrease the amount, he further added.
The Government of Sri Lanka took the initiative of improving and upgrading the initial nursing course to highly recognized international level diploma standard in 2007. As the first batch 1141 nurses completed the three years course and received diploma certificates. A batch of 42 nurses who had completed the nursing diploma course symbolically received the certificates from President Rajapaksa at the ceremony.
Health Minister Maithreepala Sirisena said the President has provided necessary provisions for the Ministry of Health to provide a commendable service to the public. An extra Four billion rupees has been allocated for medicines annually as service hours of the Out Patient Departments (OPDs) have extended 4 pm to 8 pm. Health Minister further said the Ministry has drawn up plans to post newly appointed nurses to cover every part of the country. He called on the nurses to discharge their services efficiently with responsibility.
Addressing the ceremony Chairman of the Public Services United Nurses Association venerable Muruththettuwe Ananda Thero said the government has initiated many programmes to uplift the nursing service including establishing a nursing council.
The Registration of the Sri Lanka Nurses Council as the 146th Nurses Council of the World was done under President Rajapaksa's patronage during the ceremony. The President himself registered two original members of the Council at the function. Secretary to the Ministry of Health Services Dr. Ravindra Ruberu, Provincial Health Ministers, Principals of Nursing Schools and a large group involved in the health sector were also present.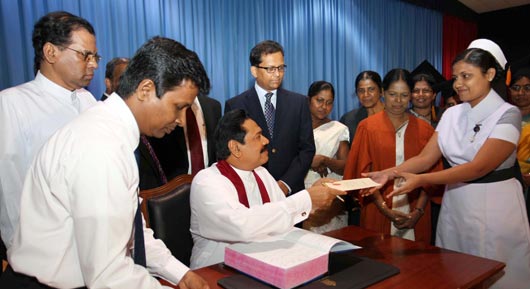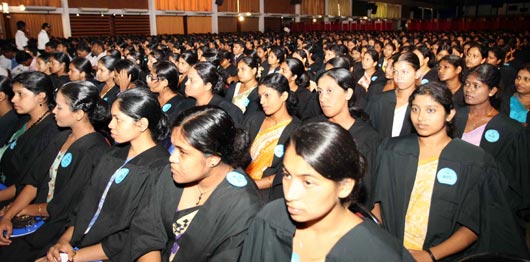 Latest Headlines in Sri Lanka