Only Sri Lanka can resolve Tamil problems – Malaysian MPs
Posted by Editor on November 30, 2011 - 12:52 pm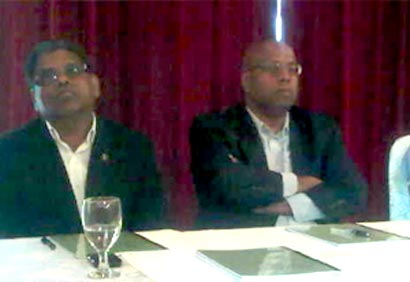 Two Malaysian MPs who are very vocal about the situation in Sri Lanka now say that only Colombo can resolve Tamil problems, not any other country or government.
M. Manogaran and S. Ramakrishnan also called upon the Sri Lankan government to show a large heart and meet the aspirations of the island's minority communities.
"Only the Sri Lankan government can address their (minorities) problems," Manogaran told IANS at the end of a short India visit, speaking for both of them. "Others including we can only play a secondary role."
He said that now that "the war was over, and a winner and loser have been declared", the Tamils in particular – who suffered the maximum from the ethnic conflict – expected a better life.
"The government must not only go for reconstruction (in the former war zone) and restore (minority) rights but also provide the necessary space for restoration of normalcy," he said.
In June, both visited Sri Lanka where they met a large number of people both in Colombo in the north.
After meeting a large number of people in politics and academics in India, the MPs admitted before emplaning for Kuala Lumpur that it was time to move on in Sri Lanka.
"In any war there will be collateral damage," Manogaran said. He underlined that the victims of Sri Lanka's long-drawn war were not just the Tamils but "If necessary we are willing to join hands with the authorities in Sri Lanka for this," they said. "We have spoken in the past about the conditions in Sri Lanka. Now that we have visited Sri Lanka and India, we know where we stand."
Both Ramakrishnan and Manogaran belong to the Democratic Action Party (DAP), which is part of Malaysia's opposition alliance.
Source: Government News Portal
Latest Headlines in Sri Lanka