"PEOPLE WOULD SERVE JUSTICE FOR THE INJUSTICE THAT WAS BROUGHT UPON ME" FONSEKA TELLS CHEERING CROWDS BEFORE WELIKADA PRISONS
Posted by Editor on May 22, 2012 - 7:44 am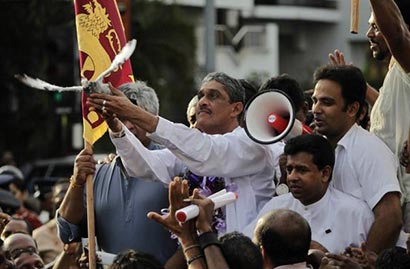 Onlanka News –By Walter Jayawardhana
Sri Lanka's jailed Commander of Army General Sarath Fonseka accusing he was taken away from his people for political vendetta said the people would serve justice for the injustice that was brought upon him.
He was addressing a large cheering crowd of people in front of Colombo's Welikada prisons from which he stepped out moments ago, after spending more than two years behind bars.
He said, "I believe that the public will serve justice for the injustice that was brought upon me. I was taken away from my people due to political vendetta. I will not forget those who stood by me shedding their tears and their grief for me. I hope to bring a better future and I will save the country from corruption. Be with us as I will never back down nor will I be discouraged. I will never forget the faces of you people who were waiting for me throughout the day. I wish nothing but the best for you and your future generations. I salute you."
The defiant General, who successfully led a war against Tamil Tigers to a victory  said even if they put him in prison for 10 years the government cannot break his spirit.As firecrackers  setoff by his supporters reverberated across Colombo he vowed to fight against the government's corruption
He kissed his hands and raised them to the people to show his love. He also set free a white dove symbolizing peace.
Assuring a continued political career for him , a short while before the reception before the Welikada Prison meeting General Fonseka said he would sacrifice his entire life for the people of Sri Lanka, addressing a similar crowd in front of the Supreme Court.
From the Nawaloka Hospital earlier he was brought to the Supreme Court where he had to sign some motions to withdraw  two of his appeals against the verdict of the white flag case and terminating proceedings on the appeal against the second Court Martial convicting him on alleged irregular procurements..
"My medical condition has improved. I salute the people who wished me well. I salute the staff of the Nawaloka hospital," he said after his release
The lawyers for Fonseka submitted the motions earlier on Monday to clear way for the Presidential release orders to take place. Thereafter he was taken back to the Welikada prisons from where he was released. The release took place after the Sri Lankan Foreign Minister met Secretary of State Hillary Clinton. DNA party MP Tiran Alles told reporters that they hoped his civic rights would also come intact. Otherwise they would continue to do a similar struggle to win them back.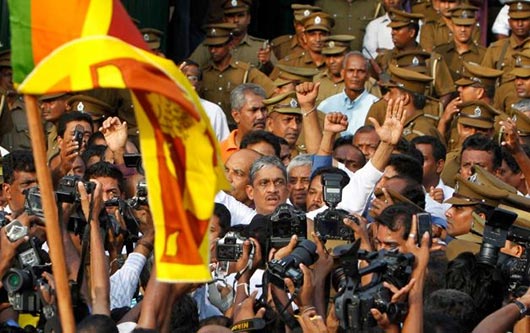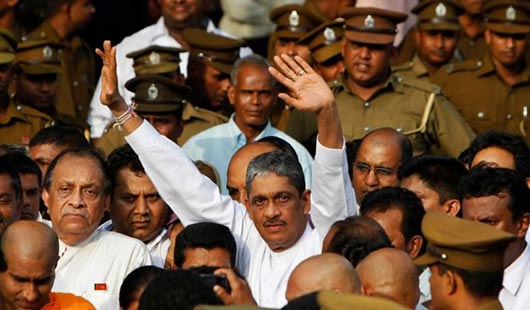 Latest Headlines in Sri Lanka