Pillay raises "religious tensions" with Hakeem
Posted by Editor on August 27, 2013 - 9:11 am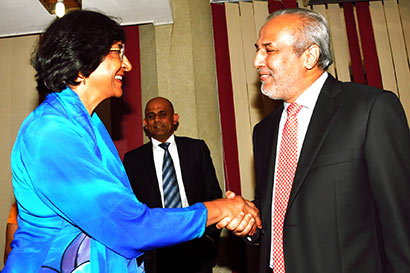 Justice Minister Rauff Hakeem said today that visiting UN Human Rights Commissioner Navi Pillay raised concerns regarding the rise in religious tensions, and said that he briefed her about the steps taken to curb violence directed at religious groups.
"I informed her of the collective stand taken by the Muslim Ministers of the Cabinet and drew her attention to the statement that we issued. I also appraised her about the steps taken by my colleague Minister Vasudeva Nanayakkara to enact laws which will make hateful religious speech an offence that falls under the penal code" he said.
Speaking soon after a half an hour long discussion with a UN delegation headed by Commissioner Pillay, Hakeem said the Commissioner had also asked him about the Bill on Right to Information
"I told her that as far as the Ministry of Justice was concerned we got the Law Commission to draft the Bill and submitted it to the Media Ministry. Now it is up to the Media Ministry to present the Bill to the Cabinet" he said.
Hakeem said that the visiting Commissioner had also asked about the new Ministry of Law and Order that was established recently.
"She was of the view that the Police Department could've been brought under the Ministry of Justice, but I informed her that it was a policy decision taken by the government" he said.
Speaking further at the news briefing the Minister said the Prevention of Terrorism Act would be a part f he Criminal Procedure, until such time the government felt that it should be abolished.
When questioned by journalists as to whether the Commissioner was satisfied with the responses given by the Minister and his delegation, he said that the answer for that should be provided by the Commissioner itself.
"That you will have to ask the Commissioner, but she gave us a patient hearing and seemed satisfied" he said.
(Courtesy: DM Online)
Latest Headlines in Sri Lanka