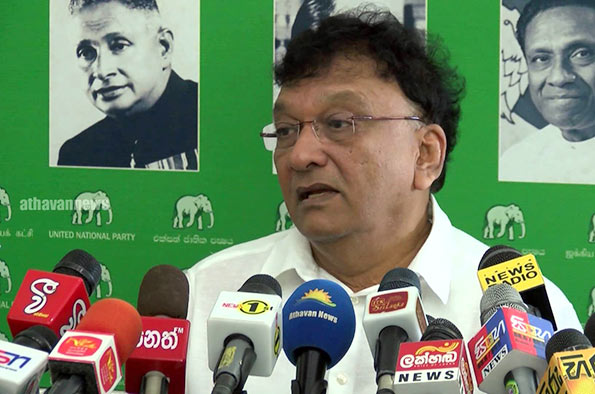 There is an attempt to portray that Prime Minister Ranil Wickremesinghe has been summoned before the Presidential Commission into the Treasury bond scam. The truth is otherwise as the premier has volunteered to appear before the Commission, Leader of the House, Higher Education and Highways Minister, Lakshman Kiriella told Parliament on Friday.
He was responding to Matara District Joint Opposition MP Mahinda Yapa Abeywardena, who said, during the third reading stage debate on budget proposals, that for the first time in the history, a prime minister had been summoned before a presidential commission of inquiry and that it was a disgrace.
Minister Kiriella said: "The Prime Minister goes before the commission on his own volition. He stated his willingness to go before the commission to clarify some matters with regard to his office that transpired during the commission sessions when others gave evidence.
"It was after the Prime Minister stated his wish, the commission decided to listen to him. It is unfair to portray this as summoning the Prime Minister before the Commission."
MP Abyewardena: But that is a disgrace for the Prime Minister post. The commission would not give a verdict against the government.
Minister Kiriella: That is wrong. The Prime Minister would go there voluntarily. That is the change introduced to this country by Yahapalanaya. Would that have happened under the previous government? We are not afraid to face any investigation because we are clean. But describing this as summoning him before the commission is wrong. He is going there on his own wish.
When MP Vasudeva Nanayakkara said that Prime Minister Wickremesinghe had been "summoned by the commission", Minister Kiriella reiterated that there is a difference between "summoning and giving evidence voluntarily".
"The Prime Minister has set an example to the entire country. He is going their voluntarily. He issued a press release stating his wish to make any clarification, and then only the commission allocated time for him to be present there. Do not mislead the public," Kiriella said.
(Source: The Island – By Saman Indrajith)