PPP to attract more foreign investors for infrastructure development – Finance Minister
Posted by Editor on September 27, 2016 - 7:35 pm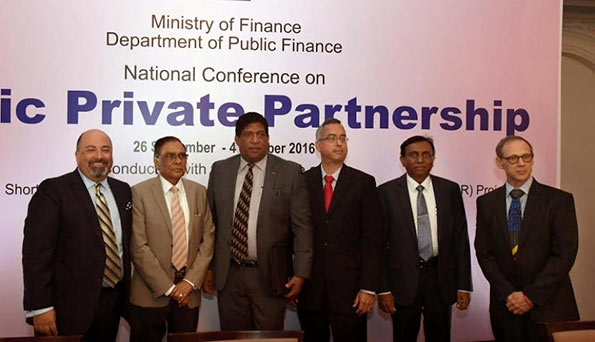 Proposed Public-Private Partnership (PPP) mechanism will attract more foreign investors especially to the infrastructure development sector thereby easing the government's current budget constraints, said Minister of Finance Ravi Karunanayake.
Correct approach on variety of PPP modules will bring enormous foreign investment and benefits to the country without having the burden of paying back, the minister said.
Minister Karunanayake expressed these views during a seminar organized by USAID yesterday (Sept. 26th) in Colombo.
Sri Lanka did not attract investors for PPP in the past due to lack of policy framework, strategies and awareness of potential of the mechanism. Therefore it ended up with accepting unsolicited proposals by giving Treasury Guarantee for loans repayment of many economically and technically none feasible projects, he said.
This compelled the country to bear an exorbitant expenditure as these high cost projects were not selected on a competitive basis, minister Karunanayake said.
The minister further said that the change that occurred in the country after January 8, 2015 has been one major reason to attract more foreign investors to the country.  The current administration of good governance has added several other political changes as well to create conducive environment for foreign investors to open up their venture in the country.
Minister Karunanayake further stated:
PPP is quicker, transparent and will use new technology in its processing thereby avoiding other unnecessary delays. Earlier, the tender procedure which was archaic, corrupt and inefficient took months and years to complete projects. Even after taking such a long time, some of them were unsolicited and were offered to certain selected companies.
Therefore, to remedy such unacceptable system, the new government is working in favor of PPP and, is determined to facilitate the new system to enable investors to engage in their venture hassle free.
It is known to all that the current government has been left with a debt burden of 9900 trillion and most of the money obtained under these debts has been used on non-economic projects. Therefore, PPP is very important at this juncture as the government has to maintain its limited capital, leaving all huge infrastructure projects such as road, housing, renewable energy, water and water resources on PPP projects, Minister Karunanayake said.
US ambassador Athul keshap, Acting Director of USAID Thomas Bayea and the ministers and deputy ministers, Dr. Harsha de Silva, Iran Wickramarathne, Rauf Hakeem and Daya Gamage also participated.
(Government News Portal)
Latest Headlines in Sri Lanka