President promises immediate relief for fishermen
Posted by Editor on February 21, 2012 - 7:24 am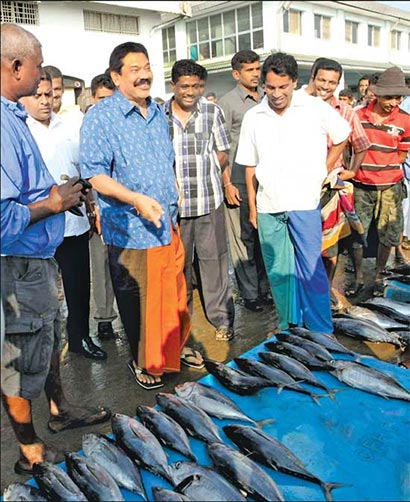 President Mahinda Rajapaksa promised immediate relief to fishermen during a visit to the Tangalle fisheries harbour yesterday.
The President who met fishermen during a sudden inspection tour of the harbour told them that the government would take immediate measures to identify issues pertaining to the fisheries sector and would provide viable solutions at the earliest possible.
He said that arrangements are being already made to address welfare and other issues faced by the fishermen.
On the occasion the fishermen too made the President aware of their thoughts on the progress of the sector in recent times, the difficulties faced by them and problems pertaining to the sector as a whole.
They also told the President that they would not support certain elements who were trying to provoke fishermen in order to achieve their petty objectives.
They also said that they appreciate the decision to provide concessions.
President Rajapaksa during the visit also inspected the refrigeration facilities and boat workshop at the harbour. There are more than 300 boats which operate from the harbour with over1000 families depending on the income generated.
The President yesterday also visited the beach park in Tangalle managed by the Municipal Council spoke to the people who were in the park.
Courtesy: Daily News
Latest Headlines in Sri Lanka