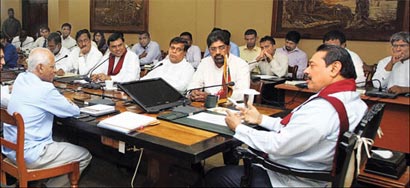 President Mahinda Rajapaksa said yesterday that he stands for the independence and dignity of the Judiciary and strongly held to the principle that justice must not only be done but be seen to be done.
On allegations relating to political interference in the Judiciary, the President said: "Lack of public faith in the Judiciary would be dangerous. Justice must not only be done but should be seen to be done. We have most cordial relations with the Judiciary and a recent meeting we had with some principal personnel in the Judiciary was on routine matters. We will never ask for changes in the Judiciary."
Addressing newspaper Editors and other senior personnel at breakfast at Temple Tress, the President said the UPFA's significant triumph in the recent Eastern Provincial Council poll, indicates the trust and confidence all communities of Sri Lanka repose in the government.
He said although facing grave hardships as a result of the widespread drought, the voters of the provinces have retained their confidence in the government and this was brought out in the election results to the three Provincial Councils which went to the polls recently.
"Besides, the Sinhala community, the Muslim and Tamil communities voted strongly for us in particularly the East," the President pointed out.
The number of Muslim Councillors elected to the Eastern PC on the UPFA ticket, match in number those Muslim Councillors elected to the PC on the SLMC ticket, for instance, he said.
The President explained in answer to a question that the UPFA represents a wide range of political opinion, including that of a hard line nature.
"There are so-called hard liners even in my Cabinet who at one time did not speak of me in complimentary ways, but they all accept the Mahinda Chinthana now and are as a result accommodated within the UPFA. Our policy is that anyone who accepts the Mahinda Chinthana can join the government, even the TNA. As you know, anyone is free to come or go," the President said.
The President responding to a question said a Bill to amend the election law relating to the conduct of Local Government polls, so as to do away with the preferential vote and introduce other reforms, would be brought to Parliament early in October.
The recent visit to India was conducted on a most cordial key with Indian leaders and Sri Lanka's decades-long ties with India were renewed. The Lankan travel advisory to Tamil Nadu will be constantly reviewed and would be done away if the ground situation permits it, the President explained.
Courtesy: Daily News