President tells Defence University Convocation: One law for all
Posted by Editor on October 29, 2010 - 6:56 am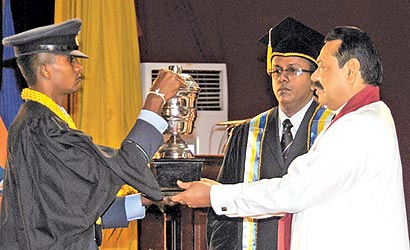 President Mahinda Rajapaksa yesterday said that the law of the land is applicable to all citizens of the country equally and Forces personnel are no exception.
The President said Forces personnel have to comply with the country's military, civil and criminal law. He stressed that they cannot evade the civil law of the country merely because of being military personnel.
He was delivering the convocation address of the Sir John Kotelawala Defence University at the BMICH yesterday.
President Rajapaksa added that the Government expects greater contribution from the Forces for the country's development. He stressed that a higher degree of discipline and tolerance is expected from Forces personnel.
He said the Government showed the world that youth can be used for the protection of a country in a productive manner.
He observed that terrorism would not arise so long as the country has a formidable Tri Forces and a disciplined society is required to establish the hard won peace in the country.
The President said that the country needs a highly disciplined and law abiding generation to take the country forward.
He was of the view that the purpose of the country being developed would serve no purpose, if the people are not disciplined.
He stressed that the military officers should themselves set an example to their junior ranks by showing them the correct path. President Rajapaksa added that the officers should develop the attitude of being patient and sympathetic to a great extent and they need to have a sense of love to their junior ranks. "Those who develop the quality of tolerance a great deal can see beyond what average people can perceive," he added.
President Rajapaksa added that the officers who pass out from the KDU has more responsibility in terms of protecting the sovereignty and territorial integrity of the Motherland.
The President said the KDU students are equipped with strategies of protecting the country's land, sea and air.
He stated that understanding and amity among Forces personnel at KDU will become a great strength to the country.
Daily News
Latest Headlines in Sri Lanka