Proper road network essential for development – President
Posted by Editor on January 7, 2011 - 8:44 am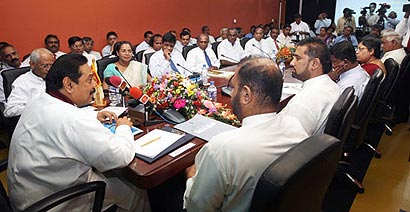 The Highways Ministry has to play a major role to fulfill the hopes and aspirations of the people by making the development program a reality, said President Mahinda Rajapaksa presiding over a special conference held at the Highways Ministry yesterday.
The President said the maintenance of a proper road network is most essential to carryout the development program in an efficient manner to deliver the fruits of development to the people.
At this conference which focused on the activities of the ministry during the past six years and its future plans, the President said the government had made the biggest allocation of Rs 102 billion to the Highways Ministry in the past. Such a big allocation was made with the sole intention of providing an efficient and systematic road network and thereby improve community life.
Therefore officials should dedicate themselves to ensure the highest dividends to the people.
A press release by the President's Media Division said officials attending the discussion pointed out that although the target of the Maga Neguma road development project was to complete 720km of roads they had been able to exceed the target to 855 km.
It was also pointed out that a major part of the Matara-Colombo Expressway was already complete and the entire expressway could be opened for the public by June this year. Nearly 30 percent of the Katunayake- Colombo expressway was also complete and it would be possible to complete the entire expressway by the end of 2012. The work on the Highways Secretariat which started last year was complete upto three levels and the entire building would be ready for opening by the end of this year.
The President also directed officials to complete the construction and rehabilitation of roads in the areas where the world cup cricket matches are due to be held soon to facilitate local and foreign tourists expected during the world cup season.
The President also noted that the country's transport service should also be extended with the extension of the road network.
Deputy Ministers Nirmala Kotalawala and Rohitha Abeygunawardena and Secretary to the President Lalith Weeratunga also attended the conference.
Courtesy: Daily News
Latest Headlines in Sri Lanka