Put a halt to communal slogans – Dullas
Posted by Editor on August 30, 2012 - 6:31 am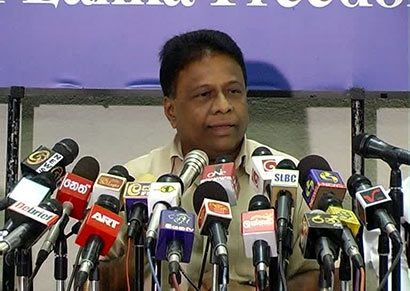 File Photo
The UPFA requested Opposition parties not to obstruct the path towards national reconciliation for the sake of securing votes at elections.
Youth Affairs and Skills Development Minister and SLFP General Treasurer Dullas Allahapperuma addressing a press conference at the Mahaweli Centre yesterday, requested political parties contesting the Eastern Provincial Council election to refrain from using communal slogans.
He said inciting racial hatred among communities would have an adverse effect on national integration and ethnic harmony of the country in the post-war scenario.
Allahapperuma said the government is in the process of promoting ethnic coexistence to sustain the newly earned peace.
He said the UPFA is committed to a one Sri Lankan nation.
The minister said the TNA is campaigning for a Tamil Chief Minister, SLMC for a Muslim Chief Minister and the UNP in this context for a Sinhala Chief Minister, whereas the UPFA is only campaigning for a suitable Chief Minister for the Eastern Province.
Allahapperuma said the voters would take a wise decision at the elections on the political parties which attempt to take petty advantage by arousing ethnic disharmony. He said the UNP has resorted to using even the Sacred Buddha Relics which arrived in the country after 32 years, in the elections in its desperation for slogans. The minister requested the main Opposition party to actively engage in the election without finding easy ways out of its pending defeat.
He said the majority of government servants who used the postal vote has lined up with the UPFA understanding the need of the hour .
Petroleum Industries Minister Susil Premajayantha said the National Opinion Poll is the best opportunity for the public to show their solidarity with the government. Premajayantha said the tourism industry is flourishing in the North and East after the conclusion of war. He said businessmen have been able to engage in business activities freely while the military presence in the area has been reduced to restore civil administration.
The minister said in this backdrop, the promotion of ethnic harmony and unity is the main concern in the country. Internal Trade and Cooperatives Minister Johnston Fernando, Social Services Senior Minister Milroy Fernando and Technology and Research Deputy Minister Faiszer Mustapha also participated.
Courtesy: Daily News
Latest Headlines in Sri Lanka