Rajapaksa Govt. betrayed the country not UNP – Attanayake
Posted by Editor on February 23, 2012 - 7:36 am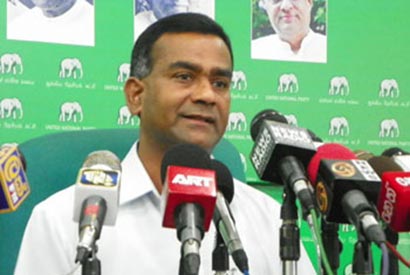 The government was making baseless accusations against the UNP, after assuring the United Nations Human Rights Commission that war crimes allegations against the security forces would be investigated and those found guilty punished, General Secretary of the UNP Tissa Attanayake said yesterday.
He told a news conference in Colombo that when President Mahinda Rajapaksa and his ministers go abroad, they play a completely different tune to the one they are used to while in Sri Lanka.
It was the External Affairs Minister G. L. Pieris and former Attorney General Mohan Pieris, who had requested time from the UNHRC to probe the actions of the security forces during the last stages of the war against the LTTE, while assuring it of instituting legal action against those who had violated the law, Attanayake said.
He said that the UNP was not interested in protecting the Rajapaksa regime, but was deeply concerned about the repercussions on the Sri Lankan people due to the inability of the "clique that calls the shots" to stomach their pride and behave in a manner that would not attract further international pressure and possible sanctions.
Commenting on the proposed Parliamentary Select Committee on the National Question, Attanayake said that without the participation of the Tamil National Alliance the entire process would become meaningless.
The government, should present a reasonable devolution package and then seek the views of all political parties, he said adding that the problems have been discussed for decades and it would be a meaningless exercise to go through the whole process once again.
The ethnic issue had dragged on for decades and it was high time the Rajapaksa regime stopped playing politics and took a sincere approach to devolving power within a unitary state, Attanayake observed.
Courtesy: The Island
Latest Headlines in Sri Lanka