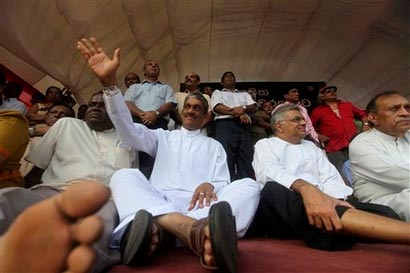 News Source: Lanka E news
It is reported that the decision of the Opposition leader Ranil Wickremesinghe to contest the upcoming General election under the elephant symbol has raised a storm of stiff opposition from all quarters.
All parties of the UNF alliance state that , at the recent Presidential election they contested under the swan symbol and the JVP too joined accepting that symbol. WNF Leader Mano Ganeshan , SLMC leader Rauff Hakeem ,SLFP (M) leader Mangala Samaraweera and General Sarath Fonseka are strongly in favor of this view.
A small group including Sajith Premadasa are backing Ranil Wickremesinghe 's stance. But , Dayasiri Jayasekera , Luxman Seneviratne. Lashman Kiriella and some others are for contesting under the symbol swan along with JVP's support.
Sajith Premadasa' s supporters state that at Hambantota District , at the last elections , the 'swan' could get only two seats on the basis of the polling . Hence , at the upcoming elections when the JVP contests, these seats will also get distributed among them . They are therefore averse to the JVP contesting along with the opposition alliance.
However at the discussions between the UNP and the JVP at the Parliamentary complex yesterday (5) , there had nt' been much resentment from both sides to the proposal for the JVP to fielding one candidate only for each District.
In any case , if the JVP is to contest alone , on the basis of the last PC election results , they could win only in two Districts , and the maximum seats they can win will be only five . Consequently , the request by the Alliance for the JVP to confine to one candidate for each electorate will not do any harm to them. It is reported that Ravi Karunanayake has also agreed to give away his symbol 'swan' as the common symbol for the Alliance .
Meanwhile , it is the view of all minority parties like Pragathaseeli and NGO Organizations that like how the Presidential election was contested under the symbol 'swan' , the General elections shall also be contested with the support of all those parties with Gen. Fonseka in the vanguard .
In the circumstances , the UNP leader will have to decide , in the future what course should be followed . Is he to go with the Swan symbol along with the JVP's support which the majority wish and go ahead as the Alliance ? or stick to the elephant symbol which has the support of a few including Sajith Premadasa?