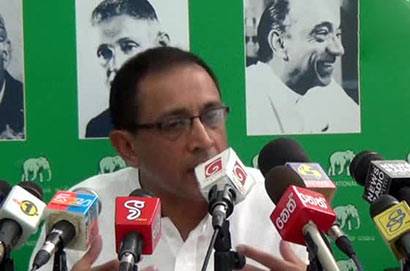 Amidst intense speculation that Sajith Premadasa would be re-appointed Deputy Leader of the UNP, Chairman of the party Kabir Hashim said yesterday that their focus was on uniting and strengthening the party with a view to winning not only the forthcoming Uva Provincial Council polls, but also the next Presidential election.
Admitting that there had been several rounds of talks between UNP leader Ranil Wickremesinghe and Sajith Premadasa MP, he observed that the discussions had been misconstrued by some as a 'deal' being worked out between the two.
Asked what the purpose of the meetings was at this juncture since both of them had talked for hours on end in the past without any success, Hashim replied: "Speak to any UNPer and they will express confidence that the party could return to its  winning ways, considering the dismal performance of the Rajapaksa regime on all fronts since the war ended. It is in this scenario that both Wickremesinghe and Premadasa were holding discussions. In the process a decision may be taken to re-appoint Premadasa Deputy Leader, but that is not the sole purpose of their meetings. The overall objective is to unite the party by welcoming back those members who have gone astray and left, assuming that it is the best course of action, but have now realised that their actions have only helped the dictatorial SLFP led UPFA government, the like of which has never been seen in our country's history."
Asked if Wickremesinghe would be the UNP's next Presidential candidate, in keeping with Premadasa's repeated demand that the UNP leader should contest and if that did not happen he (Premadasa) would stake a claim, Hashim observed that ultimately it was the Leadership Council and Working Committee that would rule on the matter.
Asked if Premadasa would be campaigning for the party at the forthcoming Uva Provincial Council Election, Hashim answered in the affirmative. When its was pointed out that the UNP's pre-poll predictions in the recent past had not materialised, he said "There is a definite change of wind and UNPers are sensing that the time is opportune to give leadership to a strong Common Opposition Front against which the Rajapaksa regime will not stand a chance at a free and fair election."
(The Island)