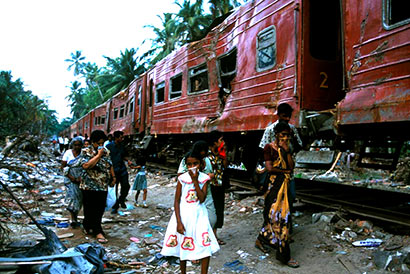 It's been thirteen years since the tsunami wave that hit the country and left behind a trail of devastation, with thousands of lives lost in the catastrophe.
December 26, 2004 is an unforgettable day for all Sri Lankans, as well as for the whole world.
The tsunami tidal waves were caused by a series of earthquakes, measuring 8.9 on the Richter Scale that occurred in the sea near Sumatra, Indonesia.
The other neighbouring countries affected were Indonesia, India, Maldives and Thailand.
The reason for massive amounts of deaths and such destruction is lack of prior experience and an unexpectedness.
The disaster claimed the lives of more than 40,000 people, while around 5,000 people were reported missing.
Thousands of people were displaced.
Deputy Director of the Disaster Management Centre, Pradeep Kodippili, said two minutes of silence will be observed today, starting from 9:25 a.m. in remembrance of the lives that were lost during the disaster.
He added that commemoration ceremonies will be organised in all 25 districts of the country, today.
(News First)