Second round of India-Lanka fishermen rep talks begin in Colombo
Posted by Editor on May 13, 2014 - 7:41 am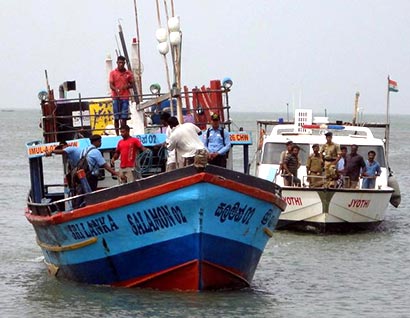 COLOMBO: Representatives of Indian and Sri Lankan fishermen began a second round of discussions here on Monday.
22 Indian representatives and 18 Sri Lankan representatives are taking part in the discussions. Four Indian Government officials, headed by Joint Secretary Suchitra Durai are attending the meeting as observers, while the Sri Lankan side has eight officials.
According to reports, the talks will focus on confidence building measures.
The fishermen are expected discuss interim working arrangements and proposals for a final settlement of the problem of sharing the fishing resources in the region.
The Indian side is likely to take up livelihood issues and traditional rights of the Indian fishermen of the region, while the Sri Lankan side plans to lay stress on the negative economic and ecological impact of extensive fishing in the region.
The proposals accepted by both sides at the end of the day will be taken up at an official level by the two governments in a follow-up meeting in New Delhi.
Earlier, Director of Fisheries, Puducherry, Mary Chinnarani, said: "The last one year itself, it happened that nearly 127 fishermen were caught and kept in the prison and 22 number of goods were caught by the Sri Lankan Navy. Our Government of Puducherry and our honorable chief minister have taken much effort with the help of Government of India to release Karaikal fishermen who are caught by the Sri Lankan Navy."
India and Sri Lanka are often embroiled in such situations where both parties claim to have arrested fishermen for wandering away and crossing international water boundaries.
Fishermen in Tamil Nadu have been constantly fighting to demand safety from the government. However, Sri Lanka claims that poaching and illegal fishing by Indian fishermen depletes the catches of its own fishermen.
Multiple arrests have caused friction between India and Sri Lanka and had become a regional issue India's southern Tamil Nadu in campaigning for the Indian general election that is all set to conclude on May 12. Results are due on May 16.
(The Times of India)
Latest Headlines in Sri Lanka