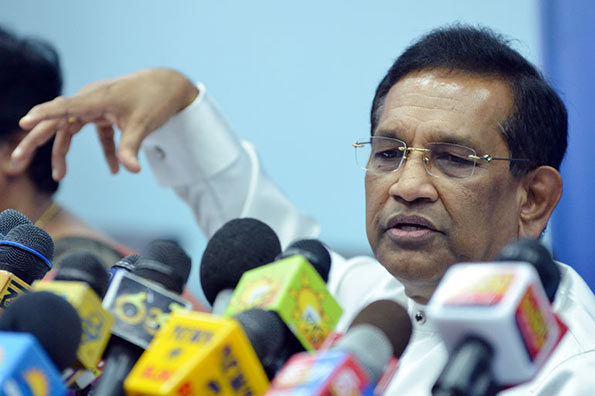 Prime Minister Ranil Wickremesinghe took over the Ministry of Law and Order for a short period of two weeks only.
After that he will hand over the Ministry to Field Marshal Sarath Fonseka, Health Nutrition and Indigenous Medicine Minister and Co-Cabinet Spokesman Dr. Rajitha Senaratne said.
Addressing an event in Colombo yesterday morning Dr. Senaratne said certain higher officers in the Police Department disliked Field Marshal Sarath Fonseka but those in the lower ranks in the Police service liked him very much.
"What the country needed today were efficient people who could take split decisions," Minister Senaratne said.
"Those who make a hue and cry about war heroes should realize that Field Marshal Fonseka is also a war hero. The government ought to take a fair and just decision he said.
Ministry posts were not everlasting. Decisions should not be taken by only looking at a person," Minister Senaratne said.
"The President and the Prime Minister should take decisions after discussions between them, because what matters was their collective decision rather than a viewpoint of the UNP or the SLFP," Minister Senaratne said.
Minister Dr. Rajitha Seneratne said a Cabinet could not be appointed according to the whims and fancies of Ministers and MPs. Some had criticised the recent cabinet reshuffle.
During the past regime Cabinet reshuffles were made according to other compulsions, mainly to bring Ministers critical of the government to heel, the Minister said.
A government should move forward with the people. The most significant feature of the recent Cabinet reshuffle was the rewarding of Ravindra Samaraweera with a Ministry portfolio. Ravindra Samaraweera who entered Parliament during the period of terror in 1989 had stood by the party for the last 30 years.
It was quite usual for elected MPs to clamour for Ministry posts after an election. Ravindra Samaraweera was rewarded with a Ministry because he had remained with patience all this time, the Minister said.
Dr. Senaratne said that even though people had issued a warning to the government at the last local government election, the government would be able to control a majority of local government institutions by setting up an administration, through a UNP-SLFP coalition he said.
Meanwhile, at the United Freedom Alliance media briefing held in Colombo yesterday, Minister Mahinda Amaraweera said the Law and Order Cabinet Minister portfolio was taken by Prime Minister Ranil Wickremesinghe only for a short period of time,.
He also said that another parliamentarian will be sworn-in as the Minister of Law and Order soon.
Minister Amaraweera said that the Law and Order portfolio may be given to a member of the United National Party. He said that there was an ongoing discussion about the matter.
He also did not rule out an SLFP MP being selected for the Law and Order portfolio.
Amaraweera replying to a question said even a SLFP member could be appointed pending the outcome of current discussions.
(Source: Daily News)