SF says he did not apologise to President
Posted by Editor on May 12, 2018 - 10:58 am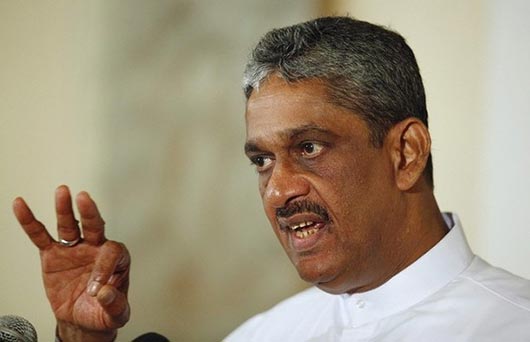 Strongly denying that he had apologised to President Maithripala Sirisena for his recent criticism of the latter, Sustainable Development, Wildlife and Regional Development Minister Sarath Fonseka yesterday told The Island an attempt was being made to exploit his May 9 meeting with the President to tarnish his image.
Fonseka said that as Prime Minister Ranil Wickremesinghe and Development Strategies and International Trade Malik Samarawickrema were present when he met President Sirisena, they could vouch for his version of what transpired at the meeting.
Alleging that some interested party/parties had deliberately misled the media, Fonseka said that he would like to set the record straight.
"Let me explain the circumstances leading to May 9 meeting," Fonseka said, revealing that Premier Wickremesinghe and Minister Samarawickrema wanted him to meet President Sirisena. Fonseka said that Premier Wickremesinghe on May 8 in parliament and before the cabinet meeting on May 9 had told him of the need to meet President Sirisena, Fonseka said.
Responding to a query, the Field Marshal said that he was told of President Sirisena being perturbed over references to him since he received sustainable development, wildlife and regional development portfolios on May Day cabinet reshuffle.
Fonseka said: "Immediately after the conclusion of the cabinet meeting, three of us-PM, Minister Samarawickrema and myself went into President's private room where the brief discussion took place."
The former war winning Army Chief quoted President Sirisena as having told the UNPers that as they were closely and affectionately associated with, there was no need to take up contentious matters on stage. Fonseka said that President Sirisena suggested that they could cordially discuss whatever outstanding matters. Fonseka said that he accepted President Sirisena's suggestion and he along with Wickremesinghe and Samarawickrema left the Presidential Secretariat.
Fonseka emphasized that he hadn't so far received a plausible explanation as to why President Sirisena declined to appoint him law and order minister.
After assuming the Sustainable Development, Wildlife and Regional Development Ministry on May 4, an irate Fonseka flayed President Sirisena for depriving him of law and order portfolio. Fonseka said that the claim he was denied the portfolio on the basis of opposition by some Deputy Inspector General (DIGs) of Police and Buddhist monks wasn't acceptable.
Two days later, Fonseka declared at UNP May Day event at the Sugathadasa Indoor Stadium, in Wickremesinghe's presence, that the fielding Maithripala Sirisena as the common candidate at January 2015 presidential poll was a grave mistake on their part. Fonseka claimed that he requested Wickremesinghe to contest the 2015 poll instead of fielding Sirisena.
Fonseka said that he was not in the habit of worshiping politicians. The minister stressed that vast majority of people expected him to receive law and order portfolio. In fact, during the previous administration, at a time when he was still in uniform, he was offered the post of Secretary Ministry of Law and Order and Prisons, Fonseka said, claiming that he refused to accept that offer.
Sagala Ratnayake gave up law and order portfolio soon after the UNP and the SLFP received a heavy drubbing at the Feb. 10 Local Government polls. Premier Wickremesinghe temporarily accepted the portfolio on Feb 25 pending fresh negotiations with President Sirisena to enable Fonseka to secure the portfolio. But, President Sirisena turned down the UNP request thereby compelling Wickremesinghe to offer that portfolio to Ranjith Madduma Bandara at the April 8 cabinet reshuffle. Subsequent efforts, too, failed to convince President Sirisena to offer the portfolio to Fonseka at the latest cabinet reshuffle effected on May Day.
The battle tested Field Marshal said that the May 9 meeting was meant to settle issues between the partners. Unfortunately, interested parties had sought to create further chaos by trying to embarrass him. Responding to another query, Fonseka emphasized that he hadn't retracted his statements, apologized or regretted.
Fonseka said that they couldn't afford to ignore the need to introduce required changes to achieve political goals.
(Source: The Island – By Shamindra Ferdinando)
Latest Headlines in Sri Lanka