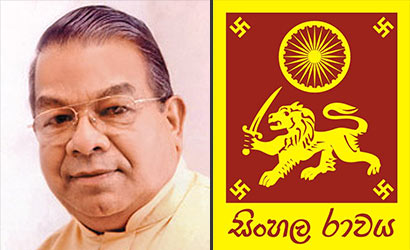 Minister of Resettlement, Gunaratne Weerakon, has ordered the controversial association, Sihala Ravaya, out from Kurundugahahethekma, after a group led by a controversial monk held a protest against a Muslim businessman opening a business establishment in the town. Pandemonium reigned in the Kurundugahahethekma town within the Elpitiya Police Division in the Galle District on Saturday (12) afternoon, with the Buddhist monk, Ven. Akmeemana Dayarathana Thera and the minister, engaging in a war of words.
The monk had allegedly abused the minister in lewd language when the latter had pleaded with the prelate not to whip up racial disharmony.
The incident had taken place when the monk and a group of around 1,000 residents of the area, as well as members of the Sihala Ravaya, had staged a protest against a Muslim businessman who was to open a gold jewellery shop in the town, Police Spokesman, SP Buddhika Siriwardena, told Ceylon Today.
The Muslim businessman had leased the shop from a Sinhalese businessman, paying Rs 500,000.
Sources said the incident was triggered off by the Chairman of the Kurundugahahethekma Pradeshiya Sabha, Gamini Amarawansha, who had joined the procession and said, "We have won today" implying that the battle to get the Muslim businessman out of the vicinity had succeeded.
"It was then that I stepped in to stop the protest, and told the Sihala Ravaya not to whip up racial emotions in this manner, and tried to disperse the unruly crowd, Weerakoon told Ceylon Today.
Weerakoon also said that he even volunteered to have the Rs 500,000 lease rental that the Muslim businessman had paid to the Sinhalese owner, refunded, in lieu of not him being deprived of opening the shop in the area.
"Such incidents in an era when the country is being developed after nearly three decades of war, is uncalled for. There were also some pamphlets being distributed at the protest, the contents of which were derisory to the Muslims as a race, and that was the reason why I worshipped the monk and pleaded with him not to whip up racial tension and disharmony," Minister Weerakoon said.
He also said he had lodged an entry with the Elpitiya Police and also produced a video of the protest with a recording of the lewd language that had been directed at him. OIC of the Elpitiya Police, Rohan Pushpakumara, confirmed to Ceylon Today that an entry had been lodged with the police and that he was also in receipt of the video as well.
(Courtesy: Ceylon Today)