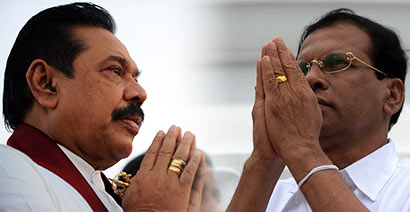 Talks between President Maithripala Sirisena and SLFP stalwarts over accommodating former President Mahinda Rajapaksa in the SLFP nomination list at the next election ended without a conclusion last night.
During the meeting however, UPFA General Secretary Susil Premajayantha and SLFP General Secretary Anura Priyadarshana Yapa had insisted that former President Mahinda Rajapaksa should be nominated as the Prime Ministerial candidate of the UPFA. Opposition Leader Nimal Siripala de Silva showed that he was willing to "sway with the winds", informed party sources told the Daily News last night.
The committee appointed by the President to promote cooperation in the SLFP has also recommended that the former President should be actively involved in the political campaign of the UPFA at the next election. "That means," a committee member said, "we request President Sirisena to grant nomination to the former President to contest the forthcoming election under the SLFP ticket."
Before presenting their conclusions, the committee members held several rounds of discussions with the former President and with the incumbent President.
The majority of SLFP Parliamentarians are supportive of accommodating former President Rajapaksa under the party list at the next election. But, former President Chandrika Bandaranaike Kumaratunga, a Patron of the SLFP, has strongly opposed the move.
Party sources told the Daily News that further talks on the same matter would take place today between the President and the SLFP seniors.
President Maithripala Sirisena said yesterday that former President might not be accommodated in the SLFP nomination list at the forthcoming Parliamentary election.
President Sirisena gave this assurance to several leftist activists and trade union leaders at a meeting held at the Presidential Secretariat last afternoon.
The meeting was attended by some leftist activists and union leaders including Lal Wijenaike, Dr. Jayampathy Wickramaratne, Chameera Perera, Poojitha de Mel and M.B. Abeyrathne. "The President informed us that he might not give nomination to the former President to contest under the SLFP ticket. But, there were indications that the SLFP MPs supporting him would get nominations to contest from the party," Wijenaike told the Daily News.
Meanwhile, highly placed SLFP sources told the Daily News yesterday that there was a move to give a 'quota' to SLFP MPs supporting the former President in every district when giving nominations. However, no final decision has so far been made in this regard.
Several 'interim arrangements' have also been discussed between the two parties yesterday.
Among them is appointing former President Rajapaksa as the Chairman of the UPFA instead of giving him nomination to contest the election.
Possibility of allowing Namal Rajapaksa to contest under the
party without giving nomination to former President Rajapaksa was also discussed at SLFP internal meetings yesterday.
Speaking to the Daily News, former Parliamentarian Vasudewa Nanayakkara said Rajapaksa would certainly contest from the the UPFA, under the symbol 'betel leaf', with all the MPs who supported him.
However, SLFP Senior Vice Chairman S.B. Dissanayake told the Daily News that the final decision on the matter would be taken today.
(Daily News)