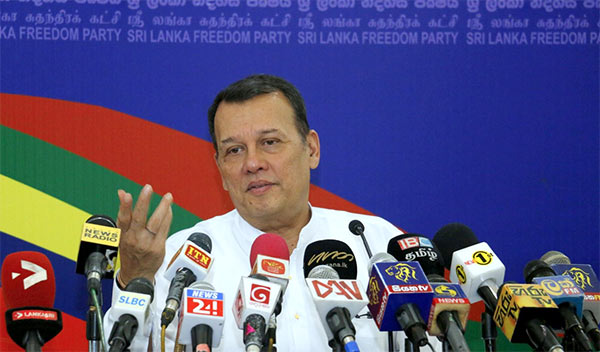 Ports and Shipping Minister Mahinda Samarasinghe said SLFPers within the government will wholeheartedly support any move to bring the 16 SLFPers back into government.
He said unity within the SLFP would always be given priority."We are still together. The party and the government are two different entities and they can support the party and not be in government".
The long awaited SLFP Central Committee (CC) meeting on Tuesday night however ended with the CC only taking up party reforms and the May Day programme in their agenda, Samarasinghe said yesterday.
They had not taken up the question of whether the SLFP should continue with the current unity government or not, he said.
The President had a series of meetings yesterday prior to that of the CC meeting scheduled for 8 pm. The eight SLFP ministers remaining in Cabinet had met the President after yesterday's Cabinet meeting to discuss their future while the 16 who left the government met the President at 5 pm to put forward their stance on the matter.
Thereafter the two groups together making up 39 SLFP Parliamentarians had met the President together at 7 pm.
"No matter our stance, all 39 agreed to work under the leadership of President Sirisena. The 16 who left, are free to sit in opposition but they have said they will not be joining the SLPP or any other party," Samarasinghe told the media briefing at the SLFP Headquarters in Darley Road.
Discussions on party reforms had led to the appointment of a committee to gather views from grassroots members, local government members, party organisers and seniors on what the reform process should look like.
Minister Dr. Sarath Amunugama who was appointed to look into the way forward for the SLFP with the Unity Government had submitted his report to the President yesterday. He added that the Cabinet reshuffle process and party reforms would look into the recommendations made in that report.
"It was expressed that though the SLFP remain with the government, they should not compromise on the ideals of the SLFP. And I think we have fought for that so far," the Minister said highlighting instances where the President stepped into ensure that the SLFP had its say in government.
The insistence of having no foreign judges being appointed to investigate allegations of war crimes, not allowing of the state banking sector to be open to the private sector, the removal of the former Central Bank Governor, the appointment of a commission to investigate the Bond issue and the abolishing of the cabinet sub committee on economic management were some of the examples highlighted by Samarasinghe to show where the SLFP had had initiated action.
"Through the National Economic Council (NEC), the President is now playing a more assertive role in the economy along with the Prime Minister", he added.
(Source: Daily News – By Zahra Imtiaz)