SLMC has no option than accepting SAITM now: Kiriella
Posted by Editor on February 9, 2017 - 4:04 pm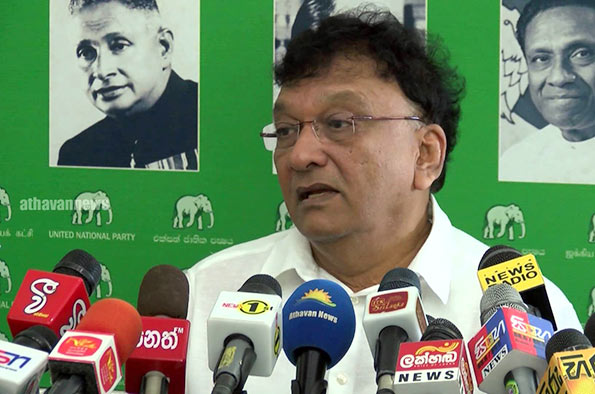 The government yesterday said the Sri Lanka Medical Council (SLMC) has no option other than accepting SAITM as a fully qualified private medical college now that the Court of Appeal has given a clear ruling in favour of it.
Higher Education and Highways Minister Laxaman Kiriella told the weekly cabinet news briefing in Parliament that the government would fully honour the Court of Appeal ruling on the South Asia Institute of Technology and Medicine (SAITM) issue and intervene to provide full facilities at State hospitals for medical students of SAITM to undergo clinical training as giving clinical training to SAITM students was the crux of the protest by the GMOA and medical students of State medical colleges.
"I am glad that the Court of Appeal has given a ruling on this issue ordering the SLMC to identify SAITM as a medical degree awarding institution and accept medical degrees offered by SAITM. But if the President of the SLMC Dr. Carlo Fonseka agrees to my request to give SAITM students provisional registration in order to arrive to a peaceful settlement to the SAITM controversy, no one would have been in this predicament today," Minister Kiriella said.
Minister Kiriella added that the SAITM students must also sit the Act 16 examination like any other medical student who obtains an MBBS degree from any medical college other than a government medical college to maintain the quality and standard of the medical profession.
The Court of Appeal judgement is very clear that the SAITM students have a right to get provisional registration by SLMC and therefore, it is the responsibility of the Ministry of Health to provide clinical training facilities to SAITM medical students because they are also our own children. They have missed the medical college entrance not because of their fault but due to the District Ratio. That is why a student in Colombo fails to enter medical college even with three 'A' passes at the GCE A/L while a student in Monaragala enters the medical college with two B passes and a C pass.
"Is it a crime to give an opportunity to our own student to study at a private medical college, obtain proper clinical training and experience and pass the MBBS and obtain provision registration at the SLMC?" Minister Kirielle asked.
Minister Kiriella said the Higher Education Ministry would set up two more medical faculties in Rajarata and Wayamba Universities shortly to train more doctors and give permits to open foreign universities that offer IT, Engineering, Accountancy and Medical degrees.
Don't forget that it was a UNP government that introduced free education to the country and therefore we have no intention whatsoever to weaken free education. But we must go forward with demands of the free world and requirements of the modern society. There are vast opportunities for new vistas of education and we must look at them in a positive mind but not with malice, hate and vengeance, Minister Kiriella stressed.
He said if any one is against the opportunity given to SAITM he or she must appeal to the Supreme Court settle the issue there and until then the government consider SAITM is a duly established medical degree awarding institute and its students have a right to apply for provisional registration at SLMC.
(Source: Daily Mirror – By Sandun A Jayasekera)
Latest Headlines in Sri Lanka