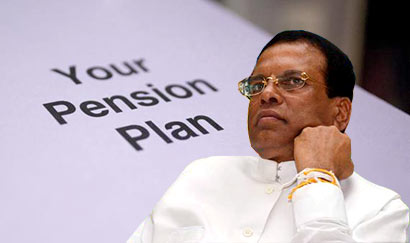 The Sri Lankan government is set to provide a pension scheme to its overseas workers, if the workers complete two years of foreign employment.
The scheme is being mooted by the newly elected Sri Lankan President, Maithripala Sirisena, who came to power in January.
A top official at the Ministry of Foreign Employment said the new government has drawn up a package of proposed facilities and services to Sri Lankan overseas workers, including the pension scheme in recognition of their contributions to the country's national development.
The ministry is in the process of drafting the scheme, which will be presented to the Parliament for approval, the official said.
Saudi Arabia is home to some 550,000 of the total 1.5 million Sri Lankan's currently working in the Middle East.
According to the ministry, the government has identified a package of programs for immediate relief for overseas employees within a period of 100 days from the time that the new government came into power on Jan. 8.
Also, the interest on Non-Resident Foreign Currency (NRFC) deposits will be increased by 2.5 percent annually, and the foreign workers' registration fees at the Sri Lanka Bureau of Foreign Employment (SLBFE) would be reduced to 147 rupees from the former amount of 226 rupees.
The new payment scheme will be effective from May for all new workers leaving Colombo for foreign employment.
"A program will be put in place to ensure support and protection for the families of migrant workers in the Middle East and elsewhere," the official said. He said that the government would place a greater emphasis on sending skilled workers and professionals to work abroad, which would have a higher earning capacity and less employment-related problems.
Overseas employment is the largest source of foreign exchange in the Sri Lankan economy.
Since the 1970's when formal employment migration commenced, foreign employment has generated substantial inflows of remittance at the same time as relieving the pressure regarding youth unemployment rates by providing employment options abroad.
"We continuously expand our services and facilities to exploit more employment opportunities while ensuring a labor migration process that adheres to principles of good governance and rights for all men and women to engage in decent and productive employment abroad in conditions of freedom, dignity, security and equity," he said.
"To facilitate this, the ministry is keen on achieving regional cooperation and understanding by holding discussions and entering into international agreements with both sending and receiving countries," he added, Arab News reports.