Susanthika gets order blocking movie about her
Posted by Editor on February 11, 2015 - 9:24 am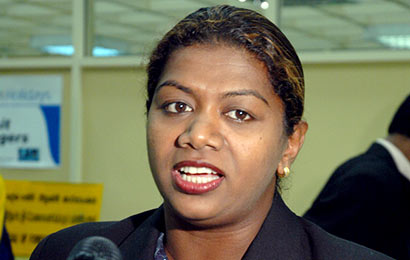 The Colombo District Court issued a permanent injunction preventing the producer and director of the film called "Susima" from producing, screening and taking any further steps whatever in connection with the film which purportedly depicts the life story of Sri Lankan sprint champion Susanthika Jayasinghe.
Judge Pradeep Hettiarachchi made this order sequent to lawsuit filed by plaintiff Susanthika Jayasinghe who won the silver medal at 2000 Sydney Olympics saying the film was an invasion of her privacy.
The lawsuit filed in 2001, sought a permanent injunction to prevent producer Sarath Namalgama and director Mohamed Niyas from proceeding with the film.
Susanthika said the chief character around whose life the film is woven called and known as Susima Jayaweera would be clearly identified to be her life story and the characters identified as the chief personalities around her life.
She said at no time did she give her consent to the defendants to produce and direct this film. Susanthika said she objected to any actress portraying her and said such an act would be degrading, humiliating and injuring her causing her pain of mind and grave and irreparable damage and in addition would be an invasion of her privacy.
Susanthika said she was keen to write her autobiography and to sell it for profit. In the circumstances a film of this nature would adversely affect her rights to do so.
She said she had learnt that the defendants were taking steps to produce the film and to shoot the film and in the circumstances they had no right in law to produce and direct the film and in the circumstances the defendants were wrongdoers in law.
Susanthika said she was a public figure in Sri Lanka and was a bronze medalist in the Olympics and silver medalist in Athens.
President's Counsel Palitha Kumarasinghe with G.G. Arulpragasam appeared for the plaintiff while Counsel Sunil Abeyratne appeared for the first defendant.
(Daily Mirror)
Latest Headlines in Sri Lanka