Sri Lanka Army to introduce Teakwondo Martial Art to youths in the North
Posted by Editor on August 19, 2011 - 9:11 am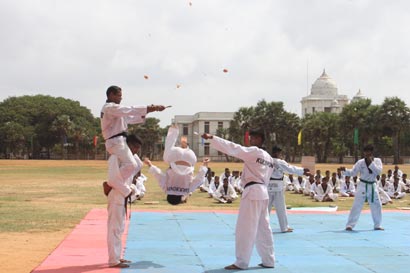 Onlanka News – By Janaka Alahapperuma
A grand show was displayed at the Alfred Duraiappah stadium last Sunday on 14 August to introduce teakwondo as a martial art to Jaffna youths by the Sri Lanka Army, Security Forces Headquarters- Jaffna. A special taekwondo show was performed by Korean teakwondo instructors and the sportsmen and women of the Army taekwondo pool, including those who have won medals at international events. The introduction ceremony took place with participation of distinguished guests and a large crowd of school children.
Sri Lanka Army decided to promote teakwondo in the Jaffna peninsula and players of the Sri Lanka Army Teakwondo Association and Korean teakwondo instructors who volunteered to assist the local organizers to promote this martial art in Sri Lanka. They presented their talents in self defence, power breaking and other techniques of taekwondo which is the only martial art included in the Olympic Games.
Commander of Security Forces- Jaffna Major General Mahinda Hathurusinghe attended the inauguration ceremony as Chief Guest. Mayoress of Jaffna Mrs. Y. Pathgunarasa, Additional Provincial Director of Education Mr. V.T. Selvaratnam and distinguished guests witnessed the show. The main event was followed by a one day teakwondo training session conducted for Jaffna students by the Sri Lanka Army and Korean instructors at the same venue. Nearly 300 school boys and girls attended the programme organized by the Sri Lanka Army Teakwondo Association with guidance of its chairman and also vice chairman of National Taekwondo Association Brigadier B.C.J.A.F. Rodrigo. A Teakwondo Club for Jaffna youths will be started by the Army in near future.
Earlier a two month long taekwondo course was held at the Security Forces Headquarters, Jaffna with the participation of large number of senior and junior officers serving in Jaffna. Twenty one male and female officers completed the taekwondo course as instructors.
This martial art has a history of over 2000 years and originated in Korea. It was introduced to Sri Lanka in 1996 and the Sri Lankan Army is at the forefront of this martial art, producing a large number of sportsmen and women of national and international standards. Over 8000 members of the Army have followed the taekwondo course to date. Sri Lanka Taekwondo National Coach Ki Su Lee, a Korean national has been involved with promoting and teaching the sport of Taekwondo in this country for the past 13 years. He first came here as part of an initiative launched by the Korean government to popularize the sport in Sri Lanka. He started off working closely with the Special Task Force in 1997 and now is heavily involved in the Taekwondo training regiments of both the Army and Police. Most of the national team is made up of members of the Police and Army Taekwondo teams.
The overall popularity of taekwondo in Sri Lanka is very low and lack of participation on a club and school platform as being a major cause for disappointment. However now things are slowly changing though, taekwondo is getting popular among youth as a martial art in Sri Lanka. There are inter-university and inter-school competitions which are bringing younger students into the sport. According to the Sri Lanka National Coach, Lee this is a very good and positive sign of the future of the taekwondo in Sri Lanka.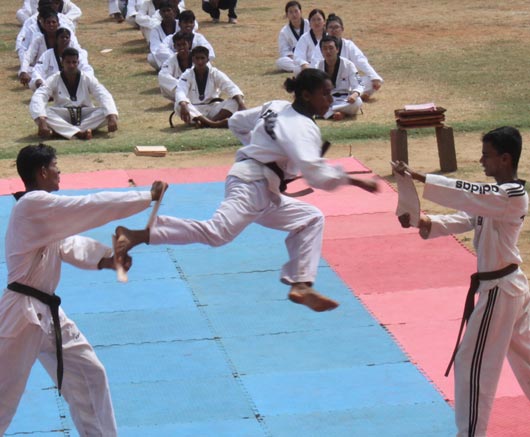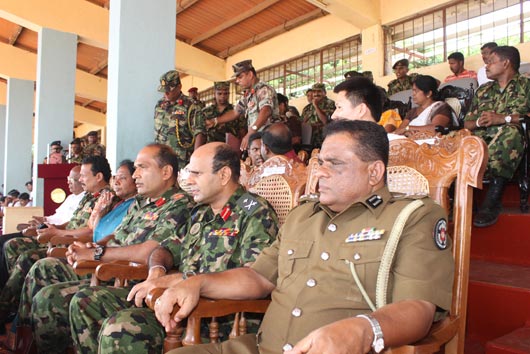 Latest Headlines in Sri Lanka