Sri Lanka leader pledges to consult Buddhist leaders over new constitution
Posted by Editor on July 7, 2017 - 8:35 am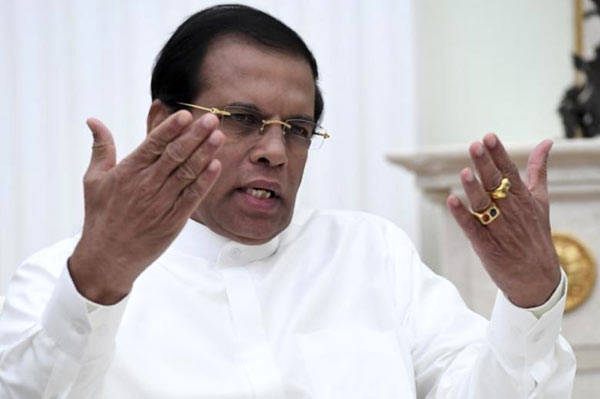 Sri Lankan President Maithripala Sirisena on Thursday pledged to consult the country's Buddhist leaders over his plans for constitutional reform, which he promised in his 2015 election campaign to bring about reconciliation among all ethnic groups.
Sri Lanka in January last year proposed plans for a new constitution aimed at devolving power and preventing the kind of ethnic tensions that led to the long civil war that ended in 2009 and to strengthen democracy, promote reconciliation and establish a political culture that respects the rule of law.
The 1977 constitution, which experts say has given more power to the federal government, is blamed for the civil war which killed more than 100,000 people.
The Sirisena administration's move has been welcomed by the international community, who have softened their demands for a tough United Nations-led war crime probe over alleged abuses during the civil war.
But the island nation's Buddhist leaders are opposed to introducing a new constitution, for fear it may reduce their influence among the population of 21 million, about 70 percent of whom are Buddhist.
"The president said respected (Buddhist) clergies will be educated, and their opinions and suggestions also will be considered in the event of drafting a new constitution," President's media office said in a statement after a meeting with the highest Buddhist officials.
More than 75 leading monks on Tuesday unanimously declared that there was no need for a new constitution or for any constitutional amendments now, local media reported.
Some opposition members have alleged that the new constitution has been drafted to please some Western nations and to dilute the influence of Buddhism in Sri Lanka. The government has rejected such accusations.
Rajitha Senaratne, the government spokesman, on Wednesday said President Sirisena was given a mandate for a new constitution at the January 2015 presidential poll.
"The monks are totally misinformed," he told a weekly cabinet press conference.
(Reuters)
Latest Headlines in Sri Lanka