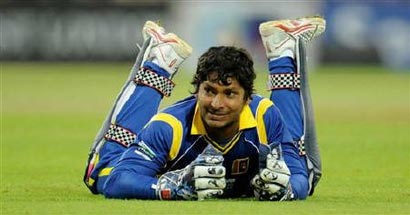 COLOMBO (Reuters) – Sri Lanka's sports minister has ordered a probe into former captain Kumar Sangakkara's comments about the island nation's cricket administrators and political meddling during his speech to Marylebone Cricket Club (MCC) members at Lord's on Monday.
Sangakkara was given a standing ovation after delivering the annual Spirit of Cricket Cowdrey Lecture in which he recounted the history of cricket in Sri Lanka, ranging from the country's emergence as a test-match playing nation, their 1996 World Cup triumph and the attack on their team bus in Pakistan in 2009.
The prolific 33-year-old batsman, who has scored over 8000 runs in 97 tests, also attacked the way the sport is run in Sri Lanka, a move that brought immediate response back home.
"He is contract player. He has signed an agreement with Sri Lanka Cricket and he can't make a statement like that," Sports Minister Mahindananda Aluthgamage told Reuters.
"He has to get permission. He can't talk about the cricket administration or cricket. He can say anything about him.
"I have written to the chairman of the cricket board to go into this and get me a report immediately."
Sri Lanka is among three countries that have been given up to two years to reorganise their boards after the International Cricket Council ordered its members to free themselves from government interference or face sanctions.
Sangakkara, who resigned as Sri Lanka captain after their World Cup final defeat to India in April, said cricket in his country had "no consistent and clear administration".
"After 1996, the cricket board has been controlled and administered by a handful of well-meaning individuals either personally or by proxy rotated in and out depending on appointment or election," Sangakkara said.
"Unfortunately to consolidate and perpetuate their power, they opened the door of the administration to partisan cronies that would lead to corruption and wonton waste of cricket board finances and resources.
"We have to aspire better administration. The administration needs to adopt the same values enshrined by the team over the years; integrity, transparency, commitment, and discipline."
Reuters