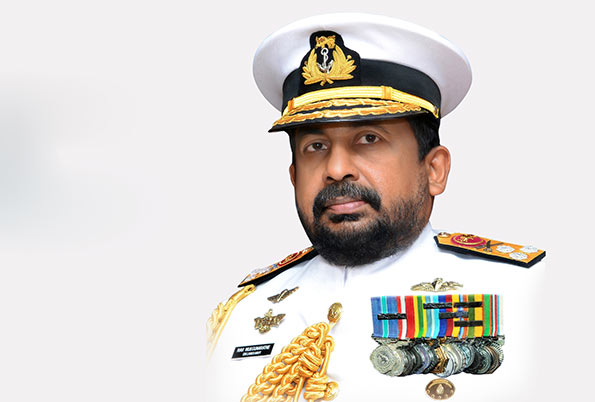 Navy Commander Vice Admiral Ravindra Wijegunaratne yesterday denied allegations by Indian fishermen that the Sri Lanka Navy had opened fire on Indian fishing vessels recently.
After attending the Feast of St. Anthony's Sacred Church located on Kachchativu Island, he responded to a question raised by a journalist as to why there had been no Indian presence at the annual Feast saying "Indian fishermen had boycotted the feast due to an incident where they claimed that the SL Navy had fired at an Indian fishing boat in Sri Lankan waters, which is totally false".
Mr. Wijegunaratne said that even for a warning shot is fired at a boat it has to be to receive the approval of the Navy Commander. "I never authorised such a thing. We don't need to fire at them. If foreign fishermen are captured in Sri Lankan waters, the protocol is to arrest them and produce them before courts. With the technology available, any Navy officer can contact me directly. However, there is an ongoing inquiry about the incident being conducted by the Navy Deputy Chief of Staff," he said.
Mr. Wijegunaratne said that the information of the location where the boat was at when the incident took place has been requested from the Indian side but to date this information has not reached us.
"We have requested the GPS (Global Positioning System) coordinates' of the boat when it was shot at. Thereafter we can conduct further investigations based on data in our radar system. We hope that the Indian Coast Guard would give us that information soon," he said.
The Navy Commander said that the SL Navy is presently maintaining a close relationship with the Indian Navy. He said if the shooting did take place it should have been reported to the Indian Navy and they should report it to our Navy immediately.
This year's feast marked the first of its kind conducted upon the completion of the new church by the Sri Lanka Navy and Mass was conducted by Bishop of Jaffna, His Lordship Rt. Revd. Dr. Justin Bernard Gnanapragasam.
The Feast was attended by the Vicar General of the Diocese of Jaffna, Very Revd. Fr. Pathinathar Josephthas Jebaratnam, District Secretary of Jaffna, Mr. N.Vethanayahan, Commander of the Security Forces in Jaffna, Major General Mahesh Senanayake, Commander Northern Naval Area, Rear Admiral Piyal De Silva, Jaffna Deputy Inspector General of Police Sanjeewa Dharmaratne, senior officers and a large number of fishermen. Sri Lankan Catholic devotees as well as a large number of religious dignitaries including Rev. Sisters were in attendance.
(Source: Daily Mirror – By Romesh Madusanka and Thilanka Kanakarathna)