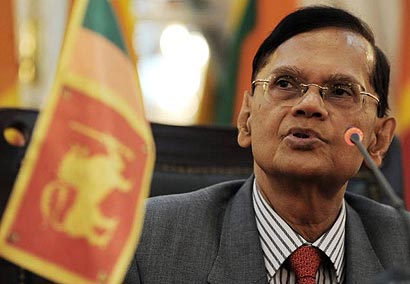 Sri Lanka's foreign minister left on Sunday on a two-week mission to shore up diplomatic support ahead of a U.N. Human Rights Council meeting, where the Indian Ocean nation is expecting to face a fight over Western-led pressure for a war crimes probe.
External Affairs Minister G.L. Peiris is scheduled to meet leaders from Singapore, Jordan, the Non-Aligned Movement and crucially, South Korea, the home country of U.N. Secretary General Ban Ki-Moon, a ministry statement said.
The minister's visit comes ahead of crucial U.N. Human Rights Council sessions in Geneva this month, where Sri Lanka is expected to challenge Western nations that want the Indian Ocean nation to submit to an independent war crimes probe.
A report given to Ban by an advisory panel found there was "credible evidence" that Sri Lankan forces and the Liberation Tigers of Tamil Eelam (LTTE) committed war crimes and killed thousands of civilians in the war's last months in 2009.
Peiris, after the bilateral meetings and a meeting of the Non-Aligned Movement's foreign ministers, is due in Geneva, along with three other ministers and Sri Lanka's ambassador to the U.N. in Geneva, who is Tamil.
Sri Lanka's military crushed the Tamil Tigers to decisively end one of Asia's longest-running modern wars in May 2009, but since the waning months of the conflict has been under increasing pressure over accusations of civilian deaths.
Rights groups, Western governments and well-funded pro-LTTE groups in the Tamil diaspora have made a coordinated push for Sri Lanka to submit to an external probe on what happened in the final stage of the war.
Sri Lanka says it was impossible to avoid all civilian casualties during the final offensive to wipe out the Tigers, who held nearly 300,000 people as human shields, but says its troops used only necessary and lawful force.
Colombo is counting on the diplomatic muscle of China and Russia, both of which are increasing post-war investment in Sri Lanka, to help it avoid a probe.
Both have U.N. Security Council vetoes and a general policy that sovereign nations should handle their internal conflicts without outside interference. President Mahinda Rajapaksa recently returned from a trip to China, where he was seeking economic support and backing against any war crimes investigation. (Reuters)
Courtesy: DM Online