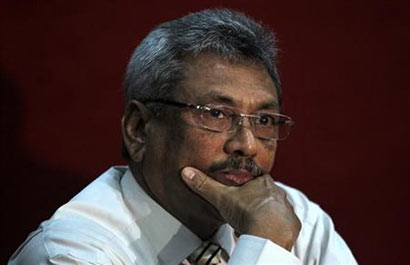 (Reuters) – Sri Lanka, under heavy pressure to end human rights abuses four years after the end of a brutal civil war with Tamil Tiger rebels, said on Tuesday it faced a new threat of terrorism and Muslim extremism.
The comments came three days after U.N. Rights Commissioner Navi Pillay said people were still suffering amid signs the country was becoming more authoritarian.
Defence Secretary Gotabaya Rajapaksa, younger brother of President Mahinda Rajapaksa, said groups linked to the Liberation of Tamil Tiger rebels had been trying to undermine government reconciliation and development efforts.
"These include winning of international opinion for the separatist cause… and pushing for the resumption of conflict through reorganizing of local militant activities in Sri Lanka," Rajapaksa told a defence seminar.
Rajapaksa said Pillay's visit was mostly due to pro-rebel linked groups. He also said there had also been Muslim extremist elements found in transit in Sri Lanka.
"The possibility that such extremist elements may try to promote Muslim extremism in Sri Lanka is a cause for concern," he said.
Rajapaksa said Buddhist-majority Sri Lanka faced possible threats from groups involved in previous insurgencies, trying to mobilise people to once again take up extreme leftwing causes.
The Tamils, mostly Hindu with some Christians, are the largest minority in Sri Lanka, followed by Muslims.
Marxist rebels of the Janatha Vimukthi Peremuna (JVP), or People's Liberation Front, launched the second phase of an insurrection in the late 1980s.
Security forces responded ruthlessly and many rebels were killed or disappeared. The JVP later transformed itself from a rebel group into a political party.
More recently, there has been increasing violence against Muslims, mirroring events in Buddhist-majority Myanmar.
The government battled separatist Tamil guerrillas from 1983 to 2009. Tens of thousands of civilians were killed in the final months of the war, according to a UN report, as government troops advanced on the rebels' last stronghold and many hundreds of people, most of them Tamils, simply disappeared.
The United Nations has urged Sri Lanka to carry out credible investigations into the killings and disappearances.
Pillay, after ending her controversial visit, raised concerns about the degree to which the military has been involved with civilian activities and said she was surprised at the government downplaying violence against religious minorities, including attacks on churches and mosques. (Reuters)