Sri Lanka to count its elephants for first time
Posted by Editor on July 15, 2011 - 11:43 am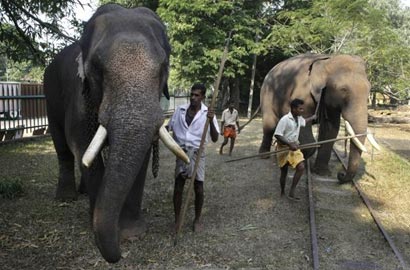 COLOMBO, Sri Lanka (AP) — Sri Lanka is preparing for its first census of elephants in the island's forests to help protect the endangered species against the loss of its habitat.
The head of the Wildlife Department, Chandrawansa Pathiraja, said the census will run over two days starting on the full moon of next month, which falls on Aug. 13.
Elephants will be counted as they come to drink from water holes, reservoirs and tanks.
With the survey, Pathiraja said he hopes to find out the minimum number of elephants, distribution of the population and the composition of herds, including males, females, babies and tuskers.
It will also help the government determine whether it needs legislation to regulate the elephant population
"The census we do can be used for many years for the policymakers and government authorities in order to prepare policies and projects aimed at conservation of elephants," Pathiraja said.
Elephants are considered sacred animals in Sri Lanka. Costumed and decorated pachyderms are used in Buddhist ceremonies as they parade through streets carrying the sacred relics of the Lord Buddha.
In the past, elephants were the country's trucks, taxis and even battle tanks.
But human encroachment and development have eaten into their habitats, and wild elephants are increasingly entering villages in search of food, rampaging through houses and destroying crops and killing people.
Around 250 elephants are killed every year, mostly by farmers. About 50 people are killed in elephant attacks each year too.
The only count available now dates back a century when an estimated 10,000 to 15,000 elephants roamed wild in Sri Lanka. But habitat loss and poaching are believed to have roughly halved their numbers.
Wildlife officials estimate Sri Lanka's elephant population at between 5,000 to 6,000.
Previous head counts by the Wildlife Department were confined only to certain regions and in 1993, one such census found 1,967 elephants but it excluded the island's north and east where a civil war was raging at the time.
With the war's end in 2009, wildlife officials have gained access to the former war zones. The Wildlife Department has already opened up some parks that were closed down during the quarter-century strife.
AP
Latest Headlines in Sri Lanka