Sri Lanka to establish Anti-Narcotic Command to curb drug influx
Posted by Editor on October 24, 2023 - 6:34 pm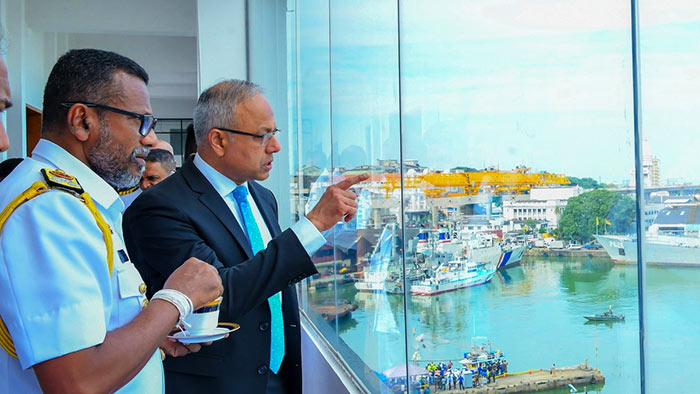 Sagala Ratnayaka, Senior Adviser on National Security to the President and Chief of the Presidential Staff, announced the forthcoming establishment of an 'Anti-Narcotic Command' to combat the influx of drugs from foreign nations into Sri Lanka.
This initiative will empower the country's armed forces and the State Intelligence Service to collaborate with international intelligence agencies in conducting necessary operations.
Sagala Ratnayaka conveyed these insights today (October 24) while inspecting the recent seizure of 200 kilograms of heroin valued at Rs. 4 billion, which was intercepted in the high seas and brought to the Colombo port on the 23rd of this month.
Based on data obtained from a collaborative mission involving the Sri Lanka Navy and the Police Narcotics Bureau, the Sri Lanka Coast Guard Ship 'Samudraraksha' was dispatched on a deep-sea mission approximately 91 nautical miles (168 km) to the west of Galle.
During this operation, a shipment of heroin was intercepted and subsequently transported to the port of Colombo.
He emphasized that the drafting of essential legislation to create this 'Anti-Narcotic Command' is currently underway and will soon be presented to the Parliament.
Furthermore, Mr. Sagala Ratnayaka underscored that while 65% of drug raids result in arrests, the remaining 35% continues to infiltrate the country. He stressed the urgency of implementing a modern program aimed at entirely preventing the entry of drugs into our country.
Expressing his views further Mr. Sagala Ratnayaka said:
First and foremost, I extend my congratulations to both the Navy and the Police Narcotics Bureau for successfully apprehending 200 kilograms of heroin. Remarkably, this marks the second substantial drug seizure within a brief span of time.
The initial operation was executed based on intelligence provided by the Police Narcotics Bureau, while the most recent operation, according to information from the State Intelligence Service, was carried out by the Navy. The widespread global network of drug trafficking necessitates on-going efforts to safeguard our population from this peril.
In collaboration with the Navy, Police and various government agencies, Sri Lanka actively conducts drug raids. These endeavours result in the apprehension of approximately 65% of drugs attempting to enter the country, with the remaining 35% still making their way in.
According to the latest intelligence, these drug shipments arrive at the international maritime border via large vessels and are subsequently transported into the country via smaller boats. This expansive drug network poses a significant challenge.
Furthermore, there is a concerning possibility of arms trafficking intertwined with these drug trades. Vigilance in this regard is paramount, as it could pose a substantial threat to national security. To address these challenges, the development of new legislation is underway, with the creation of an Anti-Narcotic Command in progress. Proposed laws are in preparation and will be presented to the Parliament for future implementation.
Navy Commander Vice Admiral Priyantha Perera and a group of high ranking officers of the Navy were also present on this occasion.
(President's Media)
Latest Headlines in Sri Lanka