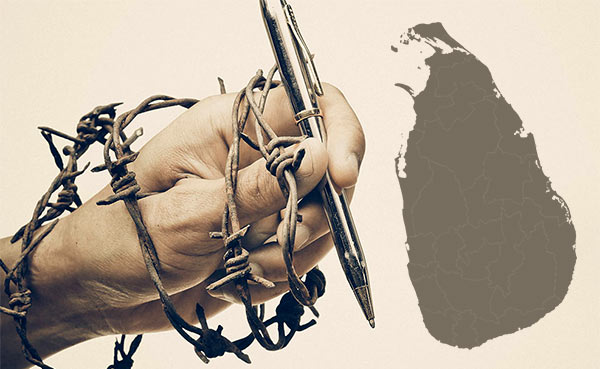 Sri Lanka has climbed 10 spots to 131 in the 2018 World Press Freedom Index compiled by Reporters Without Borders (RSF). The island nation has a score of 41.37.
"The efforts undertaken in Sri Lanka to combat physical attacks against media personnel and impunity for acts of violence against journalists account for its 10-place rise in the Index to 131st," the report said.
India has slipped two spots to 138, a rank higher than Pakistan while Afghanistan rose two places to 118 due to an improved legal environment for journalists, but the report acknowledged the threat of violence in the country where 18 journalists and media workers were killed in 2017.
Among the other South Asian countries, Nepal ranks 106th with a score of 32.05 points, Bhutan 94th with a score of (30.73), Maldives 120th (37.95), and Bangladesh 146th (46.4).
Norway tops the index scoring 7.63, Sweden in second scoring 8.31 and Netherland in third scoring 10.01. The USA in 45th place with 23.73 and UK in 40th place scoring 23.25 points.
Among the lowest ranked countries were North Korea at 180th, Eritrea at 179th (84.24), Turkmenistan 178th (84.20) Syria 177th place (79.22), just below China 176th (78.29).
The report's summery on Sri Lanka says:
"A few months after being sworn in as president in January 2015, Maithripala Sirisena said he wanted to reopen all the investigations into murders of journalists.
Some progress has been made in the investigation into Lasantha Wickrematunga's murder, but almost all the others are still unpunished. The new government also said that journalists no longer had anything to fear because of their political views or their coverage of sensitive subjects such as corruption and human rights violations by the military.
But attacks on journalist Freddy Gamage in June 2016 and in early 2018 fuelled the doubts of both the public and media freedom defenders.
The Tamil media, often the target of attacks and censorship both during the civil war and after its official end in 2009, are still on their guard.
In March 2016, the ministry of parliamentary reform and mass media ordered all news websites to register with the government or become illegal.
This vague and disproportionate directive immediately reminded the media and citizen journalists of former President Mahinda Rajapaksa's censorship methods."
(Source: Ada Derana)