Sri Lankan budget to avoid tough choices as risks mount
Posted by Editor on November 19, 2015 - 6:56 am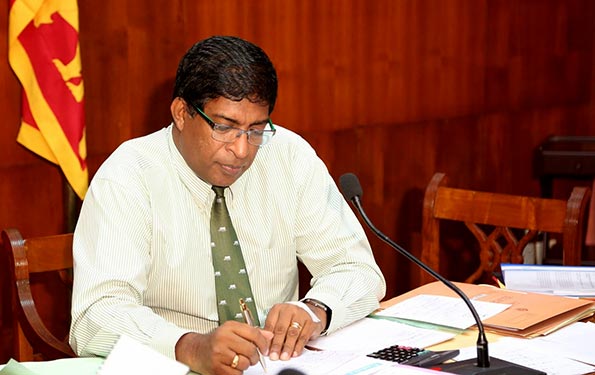 Sri Lankan Finance Minister Ravi Karunanayake will seek to boost tax revenues and rationalise spending in the new government's first full-year budget on Friday, but analysts see him showing little commitment to fiscal consolidation.
The coalition government's formation in August helped complete a peaceful political transition after a long and bitter civil war, but the Indian Ocean island's young government lacks a steady financial base to launch reforms.
The International Monetary Fund recently urged Sri Lanka to take "immediate and credible steps" to curb the budget deficit and reduce public debts. One analyst has even warned that a balance of payments crunch could loom next year without decisive action as Sri Lanka runs low on foreign reserves.
"These low reserves levels will leave Sri Lanka susceptible to a balance of payments crisis in 2016," Eurasia analyst Sasha Riser-Kositsky said in a report.
"We believe that in such a scenario the government would approach the IMF, a step it has thus far avoided given that an IMF programme would require further unpopular reforms."
Karunanayake's 2016 budget will only reduce the deficit slightly from this year's expected 6.9 percent of gross domestic product – which is much higher than an original estimate of 4.4 percent.
The government's medium-term economic strategy foresees cutting the deficit to 3.5 percent of GDP by 2020.
Karunanayake has said the budget would be capital-oriented with a revenue surplus, raise taxes on some sectors without imposing extra costs on ordinary people, and avoid layoffs in the bloated public sector.
"It will be a completely revolutionary approach," the businessman-turned-politician told the Foreign Correspondents Association last week, promising steps to attract foreign investors.
Many analysts expect the budget to focus on gradual reforms such as simplifying taxes, encouraging greater use of the formal financial system, lowering barriers to foreign investment and land ownership, and restructuring state firms.
W.A. Wijewardena, an economist and a former deputy central bank governor, said the government would have to raise tax revenues to keep its election promises not to cut subsidies and to raise pay for government workers.
President Maithripala Sirisena's government has struggled with fiscal consolidation since coming to power after the Aug. 17 polls, bogged down with unexpected cost from contracts signed under the past government.
The government has estimated borrowing, both from local and foreign sources, at 1.35 trillion rupees ($9.5 billion).
However, analysts say the government is likely to face pressure on foreign borrowing and the balance of payments next year due to an expected rise in U.S. interest rates and $3.6 billion in debts that fall due in the first nine months of 2016.
($1 = 142.2000 Sri Lankan rupees)
(Reuters)
Latest Headlines in Sri Lanka