Sri Lankan murder suspect eligible for protection visa in Australia
Posted by Editor on February 18, 2015 - 9:08 am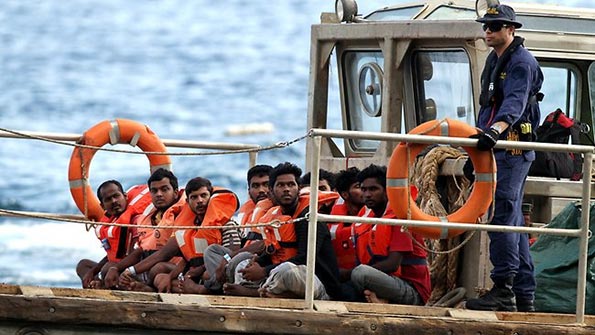 A Sri Lankan man who came to Australia by boat has been found to be eligible for a protection visa, although he is suspected of murder in his home country.
The man, 36, who fled Sri Lanka while on bail, lied in his protection visa application, saying he was not aware of any investigation that could lead to him being charged.
Sri Lanka's Criminal Investigation Department wrote to the Australian Federal Police in April 2013, saying he was a murder suspect and a warrant had been issued, a tribunal heard.
The man, a Sri Lankan Tamil, initially claimed he had fled Sri Lanka after being in hiding for a year, after being tortured and beaten by members of the Criminal Investigation Department.
But he gave another account after he became aware Australian authorities knew of criminal proceedings against him in Sri Lanka, the Administrative Appeals Tribunal heard.
The man had been arrested, accused of the murder of a pregnant woman who disappeared in 2009, held in custody for weeks and then released.
The man, who denied committing the murder, said he was being implicated in the murder because of his past complaints about the alleged illegal takeover of his land.
He said he was tortured by the CID for four days before he was forced to sign a confession in Sinhalese, which he could not understand.
He said he then spent 18 months in jail before being granted bail and had reported daily for almost two years before leaving Sri Lanka illegally by boat in May, 2012.
After his arrival in Australia he was held in detention and during two interviews he did not tell Immigration officials he had been held in custody and tortured in Sri Lanka.
He feared if he was sent back he would be tortured, given an unfair trial and executed.
Immigration refused his protection visa application in 2013, finding serious reasons for considering he had committed "a serious non-political crime'' before coming to Australia.
But Tribunal Deputy President James Constance said he was not satisfied that the man had actually been charged with murder and he accepted his claims about his treatment in Sri Lanka.
He said the man's lies did not prove he had committed the murder and there had been no evidence of murder since the woman disappeared.
"In my view, the evidence falls far short of establishing 'serious reasons' for considering that the applicant committed murder,'' Mr Constance said.
He set aside the refusal of the protection visa and sent his application back to the Minister, Courier Mail reports.
Latest Headlines in Sri Lanka