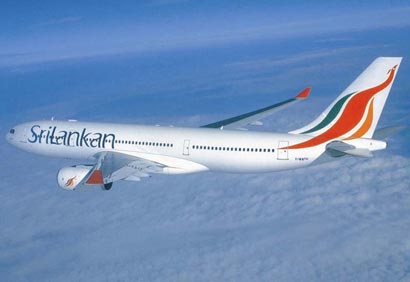 The country's national carrier SriLankan is now running the risk of being barred from Europe, from where the bulk of its income is derived, allegedly due to some negligence on the part of the airline's engineering division.
Informed aviation sources said unknown to most people here, a SriLankan Airbus A-340 was detained in Paris for nearly nine days last month after civil aviation authorities there discovered lose rivets around its engines. Later after the necessary repairs attended to by Air France engineers, the same aircraft was found to have a fuel leak.
The incident was considered so serious that aviation authorities in Paris did not even permit SriLankan to ferry back the plane empty, which is normally allowed. The result was that in addition to stomaching the embarrassing discovery, the airline had to foot a costly repair bill, the huge loss from an idling plane and having to find accommodation and alternate flights for passengers who were waiting to fly the aircraft.
Already a number of Asian carriers are barred from flying to Europe for safety and other violations including Pakistan's PIA, Indonesia's Garuda and the Philippino national carrier, along with a large number of African airlines.
The Island learns that since the incident the Lankan carrier is virtually on notice and safety audits, which were earlier random, are now almost mandatory for SriLankan flights touching Western European capitals.
There are, however allegations that this is part of a wider Western conspiracy to discredit Sri Lanka since the safety check that allegedly discovered loose rivets had been carried out exactly on the day President Rajapaksa addressed the annual sessions of the UN General Assembly on September 23.
But others dismiss this theory, since the incident was not leaked to the media.
Sources said following this incident the International Civil Aviation Organisation (ICAO) had demanded the sacking of the engineer who had passed the aircraft.
SriLankan engineering sources said instead of holding the higher ups responsible the carrier had penalized an engineer who had carried out the line check on the aircraft Shanaka de Silva, by taking away his power of approval. The problem should have been spotted not during the line check, but during the more important A-check, which is carried out inside the hangar.
When The Island contacted the President of the Engineers Union Anura Wickramarachchi, he declined to comment and said the matter was being probed the Quality Assurance Section. Wickremarachchi also asked us to get an official comment from the carrier's Corporate Communications Division, but despite making repeated attempts we could not contact anyone in the division during the last three days.
We also made repeated attempts to contact the Head of the SriLankan Engineering Division Priyantha Rose since Friday, but we were always told he was not available and the officers who answered the engineering division telephone also refused to give us his cell phone number or the residence number.
Courtesy: The Island