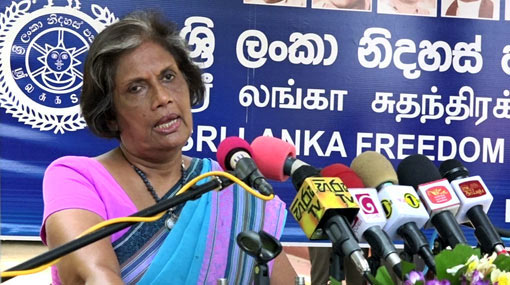 Former President Chandrika Bandaranaike Kumaratunga says that stealing was the main policy and philosophy of the previous government under Mahinda Rajapaksa and conceded that corrupt individuals still occupy certain sections of the incumbent administration.
"There are still thieves in certain sections of even this government. I won't say no." However, unlike the previous government stealing is not the main policy and philosophy of this government and we will not allow that to happen, she said.
Addressing an event in Kelaniya today, she said that former President Mahinda Rajapaksa prohibited all MPs, Provincial Councillors and Pradeshiya Sabha members from speaking to her and all the media were banned from even saying her name during his reign.
Kumaratunga said that she refused to give interviews Sri Lankan media and foreign media during the past 9 years because she would have had to speak about the wrongs committed by the Rajapaksa government.
She said that none of the party seniors even wanted to know whether she was dead or alive during that period or bothered to even send a card once a year for the fear of losing their posts and seats.
She stated that if the Rajapaksa government was in power for another year, the country's economy would have completely collapsed. "It would have been unable to even pay the public sector wages."
Kumaratunga stated that the Sri Lanka Freedom Party (SLFP) was completely ignored and left to its destruction by its then leaders.
(Source: Ada Derana)