Substandard diesel import: COPE summons CPC
Posted by Editor on August 6, 2012 - 6:54 am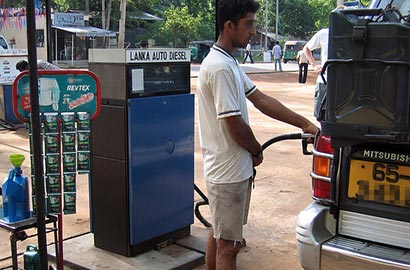 The Committee on Public Enterprises (COPE) has summoned the the Ceylon Petroleum Corporation (CPC) for an inquiry into a consignment of contaminated diesel supplied by a foreign seller on Tuesday (7).
UNP MP Ravi Karunanayake, MP, yesterday told The Island that the COPE would go into all CPC issues, including the latest controversy.
Karunanayake, who is also a member of the COPE, stressed that the UPFA couldn't get away with its economic crimes by simply appointing committees.
Senior Minister Dew Gunasekera yesterday said that the government should conduct a thorough investigation, though he asserted that COPE wasn't the forum for an inquiry into the latest fuel controversy.
Karunanayake said that there should be a comprehensive inquiry to assess the catastrophic situation caused by the import of contaminated fuel. Asked whether the UNP wanted to exploit the crisis for its advantage at the forthcoming provincial council elections, the UNPer said people hadn't been able to enjoy the peace dividend, though the war ended in May 2009 due to waste, corruption and irregularities in the public sector. The MP said that the UPFA had earned the wrath of the people, hence, the vast majority of them were likely to vote against the ruling coalition.
The economy was in crisis due to idiotic due to the wrong policies of the government, he said, recalling how those responsible for running the economy had invested in Greek bonds.
The MP said there was a pressing a need to establish the circumstances under which the CPC had ordered diesel from the once backlisted Singaporean firm as former CPC Chairman Harry Jayawardena had disputed a statement attributed to Petroleum Minister Susil Premjayanth that Jayawardena accommodated the black listed firm after it paid a $ 75,000 fine. Jayawardena told the media that Minister Premjayanth, too, had been involved in the decision making process and that the Singaporean firm wasn't the only one accommodated on the list of CPC's suppliers after fines were paid.
Courtesy: The Island
Latest Headlines in Sri Lanka