Threat to my life: Ranil
Posted by Editor on December 20, 2011 - 7:51 pm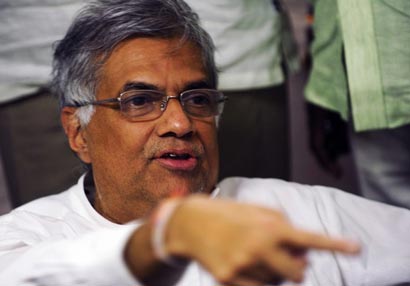 Opposition Leader Ranil Wickremesinghe today said that there was a threat to his life and to the UNP from certain elements as seen by the violence at Sirkikotha yesterday.
Wickremesinghe addressing a media briefing showed a large stone which he had picked up at Sirikotha. "This is the rock that hit the UNP. I brought it here today to show you. This was an act against the UNP. No UNPer would have done this," the Opposition leader said.
He said although he had spoken on safeguarding media freedom on behalf of the media there was need now for the protection of the party from certain media groups. During the media briefing Wickremesinghe handed over the stone to the journalist from the media group in question requesting him to give the rock to the Chief of the organisation.
He said there was an on-going police investigation on the violence at Sirikotha and that certain people were arrested. He thanked the media at this point stating that evidence from media coverage had been useful in the investigations.
The damage to Mr. Wickremesinghe's government vehicle has amounted to Rs.500,000 and the damage to General Secretary Tissa Attanayake's vehicle was over Rs.1 million, he said. In addition there has been damage to computers at the Sirikotha office, the Buddha statue and that even the party logo has been removed from the premises.
"This media group showed a live telecast of yesterday's attack. Why is that? They were also there when the Prelates of the Malwatte Chapter and others handed over letters pertaining to the party leadership. This organisation was the only one present at the time. Why is that? There must be some kind of conspiracy," he said.
Speaking on the vote for the party leadership Wickremesinghe said the UNP should now move forward. "I am thankful; to those who voted for me as well as those who voted for Karu Jayasuriya as we have to work together in our greater campaign against the government. We need everyone's support including those at grass-roots level to do it," he said. He said there will be no change in the party constitution next year.
Courtesy: DM Online / Pix by Getty Images
Latest Headlines in Sri Lanka