Ties with China not at India's expense: Sri Lanka PM Ranil Wickremesinghe
Posted by Editor on April 2, 2017 - 9:13 am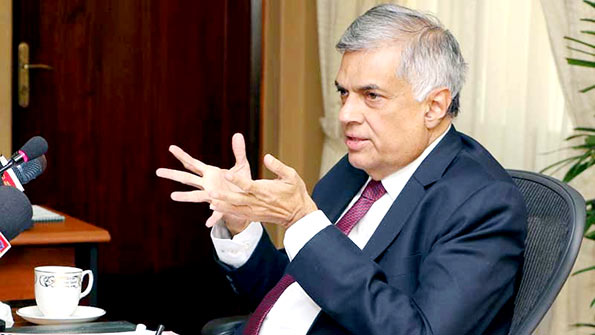 Sri Lanka's Prime Minister Ranil Wickremesinghe spoke to WION'S Padma Rao Sundarji in an exclusive interview: Excerpts:
Your government came to power in 2015 promising to improve relations with its closest neighbour India. But core issues continue to linger. Your closeness to China is a "strategic threat" to India. How can you reassure New Delhi?
Our friendship with China is not at the expense of India. India should not get too worried. The two governments understand what's happening, and we are moving closely. It is only the Indian media which talks of an uneasiness in the ties. There's nothing I can do about it. We have good defence and economic ties with New Delhi. We are looking at how India can help develop Trincomalee harbour along with Japan. We are both committed to seeing the success of the Bay of Bengal as an economic area. The economies of the five southern Indian states should be at least worth 500 billion dollars. If we work together, that can grow to nearly a trillion dollars. There is close sharing of security information. This has been one of the good periods in relations with India.
Your bilateral relationship with Beijing is your prerogative, of course. But it's skewered heavily in favour of China. You owe China 8 billion dollars, i.e. a 12th of your overall overseas debt. Surely China is not offering you a mere hand of friendship but an iron fist in a velvet glove?
I don't know why you are so worried about China. No one has offered us an iron fist, with or without a velvet glove. Please remember the global financial crisis of 2007, China was one of the major players to assist many countries with infrastructure development. Sri Lanka is not an exception. It is Brazil, Russia, India, China and South Africa (BRICS) who have a special friendship. Some people even feel they are trying to dominate other developing economies. Yes, we have taken a large number of commercial loans from China but also from others. To repay them is a concern, so we are inviting foreign investment.
Chinese military submarines have docked in Sri Lanka and caused annoyance to India. Can you assure India on record through this interview that there will be no Chinese military presence in Sri Lanka's sovereign territory, at least during the remaining two years of your tenure in office?
Chinese military submarines have been coming to Sri Lanka regularly. There is only one instance which became an issue. That was under former President Rajapaksa. Chinese submarines came here and the Indian government claimed — and I think — they were not informed. Just like any other country, the Chinese will come to Sri Lanka and visit us at times agreed by and convenient to us.
But there is no defence relationship with China.
In your southeastern port of Hambantota, you have offered Chinese companies equity for debt, even land for a Free Trade Zone. In Colombo, you delayed the China-built Port City Project to assure India. After all, 80% of transshipments from India transit Colombo. But the project has recommenced and is firmly in China's hands. Surely China's 'String of Pearls' is beginning to choke Sri Lanka?
Sri Lanka has always been the hub of the Indian Ocean. From time immemorial, Chinese ships have been coming to Sri Lanka on the Silk Route. Hambantota port was built with Chinese assistance. We have only said we are unable to pay the debts on it and that we will offer it to anyone who is willing to take it up. We persuaded Beijing to accept a debt-to-equity transfer. Some Chinese companies applied. We took the best and have got the Chinese to agree to go up to 1.5 billion dollars to pay for their share of the Joint Venture. We have 20 per cent for the Sri Lanka Ports Authority (SLPA). So if anyone else in Sri Lanka wants to invest in Hambantota, we will give them the freedom to do so.
Is that an open invitation to India too?
Well, Indian ships can come to Hambantota, there is no problem at all.
But of course there is. China provided military equipment and helped Sri Lanka defeat the Liberation Tigers of Tamil Eelam in 2009. So you're really saying that the Chinese will continue to visit but India will be kept 'informed'.
Actually, New Delhi is aware of that.
Sri Lanka has 21.2 million Muslim citizens. After Hindus, they are your country's second largest minority. Your justice minister recently told your Parliament that 31 "elite Muslims" from Sri Lanka have joined the Islamic State (IS). There is growing radicalisation in the neighboring Maldives. And Pakistan – also your close military ally — is the epicentre of global Islamist terrorism. You met PM Nawaz Sharif recently. We hope you expressed your concern over his hosting globally banned terror groups like the Lashkar-e-Taiba and the Jaish-e-Mohammed?
I met Mr Sharif very briefly. The vast majority of our Muslims work with other Sri Lankans. Of those who went to IS, some have been killed, we are in touch with the families of the others.
The promise of greater autonomy to Sri Lankan Tamils detailed in the Indo-Sri Lanka accord of 1987 remains unfulfilled. Your Sinhalese majority remains staunchly opposed to it.
It's not just a Tamil versus Sinhalese issue, it's a centre versus periphery issue. Every province wants greater autonomy. But we have to be realistic and are discussing it. We are a democratic country.
First, the encounter with an LTTE operative 'Gobi' and his men and the subsequent unearthing of caches of weapons in the Northern Province some years ago. And more recently, the plot to assassinate your moderate Tamil National Alliance leader, M A Sumanthiran. Is the LTTE on the rise in Sri Lanka again? Or – and like you often accused your predecessor government of doing, are these merely 'engineered' rumours to justify the continued presence of the armed forces in the former war zones even eight years after the war ended?
The LTTE has been wiped out. And the number of the army troops in the North is being reduced gradually.
Mr Prime Minister, a very last question. What is your personal equation with India's PM, Narendra Modi?
I have known him for a long time. In fact, I've kept in touch with him since his days as Chief Minister of Gujarat, when no one thought he would be the prime ministerial candidate. We continue that acquaintance and friendship.
(Source: DNA India)
Latest Headlines in Sri Lanka