UNP: Arrest those who assisted BBS in commiting crimes against Muslims
Posted by Editor on June 28, 2014 - 9:28 am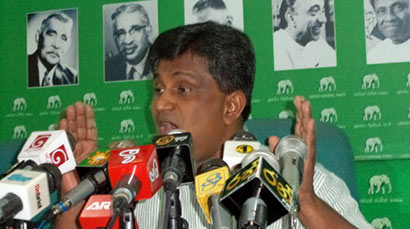 The UNP yesterday accused the government of using the Official Secrets Act to cover up the involvement of three intelligence officers in last weeks Bodu Bala Sena (BBS)-led attacks on Muslims in Aluthgama and Beruwela.
Kalutara District UNP MP Ajith P Perera told a news conference in Colombo that the names of the said officials were known to whole country including the media and mentioning their names was not tantamount to betraying the military or intelligence services.
The Rajapaksa regime instead of taking action against the officers concerned for aiding and abetting the BBS in creating public disorder by their deadly attacks on Muslims which included destruction of their property and businesses was trying to arrest UNP MP Mangala Samaraweera, who had named the culprits, MP Perera said.
What Samaraweera had stated was true and there had been no official denial in that respect. "So, how could action be taken against him,while permitting those who had committed criminal acts to go scot free?" the MP queried.
The security forces, police and intelligence services had taken an oath to safeguard the country's sovereignty, territorial integrity and maintain law and order. If any of its members was involved in creating public disorder and committing criminal acts they should be arrested and prosecuted under the law of the land, MP Perera said. Instead, those who had revealed the truth were being hounded under the cover of the Official Secrets Act, he said.
(Courtesy: The Island)
Latest Headlines in Sri Lanka