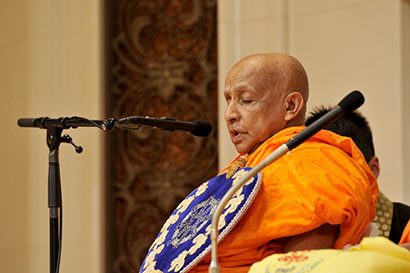 Chief Prelate of the Asgiriya Chapter of the Siam Nikaya, Most Ven. Udugama Sri Buddharakkhita Maha Nayaka Thera, charged the United National Party (UNP), under Ranil Wickremesinghe, is 'drowning in a sea of hopelessness.'
"The UNP Leader acts on the advice of a group of sycophant henchmen around him, who work for only self-aggrandisement, benefits and privileges.
They are immune to people's suffering and the colossal hardships the public has to undergo everyday.
The UNP, under the present leadership is misled by the so-called close advisers," the Thera said addressing a delegation of priests from the United Bhikku Front, who were visiting the Malwatu and Asgiri Chief Prelates.
"For over 20 years, under the leadership of Ranil Wickremesinghe, the Party has been on an irretrievable downward slide. A coterie of sycophants around the leader conjures up every manner of obstruction in the way of any up and coming popular leader, until he leaves the Party in sheer disgust. Day by day the Party is sinking in a quicksand of oblivion.
"There is now virtually no opposition in the country to fight any issues with regard to the government. This is truly a tragedy of massive proportions," the Thera said.
The delegation also handed over a memorandum to Most Ven. Thibbotuwawe Sri Sumangala Maha Nayaka Thera, the Chief Prelate of the Malwatta Chapter of the Siam Nikaya.
(Source: Ceylon Today)