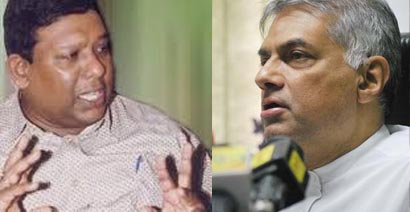 DM Online – By Kelum Bandara and Yohan Perera
UNP Leader Ranil Wickremesinghe at the last UNP parliamentary group meeting had made enquiries from MP Lakshman Seneviratne as to why he had given evidence against DNA Leader MP Sarath Fonseka before the first Court Martial.
The Court Martial stripped the former army commander of his ranks and medals. It also deprived him of his pension rights.
UNP MP Lakshman Seneviratne and Minister Johnston Fernando gave evidence before the Court Martial against MP Fonseka for his alleged involvement in politics while being in uniform.
At the last group meeting Mr. Wickremesinghe had reportedly said that the UNP was embarrassed because of MP Seneviratne giving evidence before the Court Martial. The UNP Leader had apparently questioned Mr. Seneviratne in this regard.
Mr. Seneviratne had reportedly responded saying that he had no other option than giving evidence before the Court Martial.
Last week Mr. Wickremesinghe criticised the Prosecuting Council and the Judge Advocate of the Court Martial in Parliament.
He also denied that MP Fonseka was engaged in politics with the UNP while being in uniform as the Chief of Defence Staff at that time.
The DNA is expected to file an appeal in the Appeal Court shortly against the first Court Martial decision.
DM Online