UNP parliamentary group runs into storm
Posted by Editor on August 10, 2011 - 8:41 am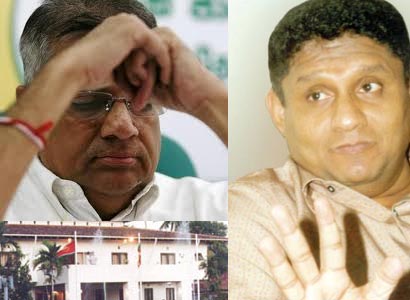 The UNP reformists' group yesterday proposed at the party's parliamentary group meeting the appointment of deputy leader Karu Jayasuriya as the leader of the party, MP Ranjith Madduma Bandara said  yesterday.Co-deputy leader Sajith Premadasa moved the resolution while making a hard hitting statement against the party hierarchy, and it was seconded by MP Bandara. Heated arguments ensued between the MPs yesterday after MP Ajith Perera noted that the unity of the party was of paramount importance to win elections in the future. Subsequently, MPs such as Dayasiri Jayasekara, Mr. Bandara and Mr. Premadasa made their remarks critical of the present leadership.
MP Kabir Hashim who has taken a moderate approach with regard to the internal rifts of the party, came out openly against the present leadership yesterday and asked for the appointment of Mr. Jayasuriya as the next leader to unite the party. He said that his family lost land property running to the extent of 15,000 acres due to involvement in UNP politics right from the beginning, and therefore he was not greedy for various positions. He offered his vice president post to former MP Imthiaz Bakeer Markar and his Kegalle district leadership post to MP Champika Premadasa. However, he stressed that Mr. Jayasuriya should be made the leader with immediate effect.
Mr. Jayasuriya too, for the first time, expressed his willingness at a top level meeting such as the parliamentary group to accept whatever responsibilities assigned to him at this juncture.
Chief Opposition Whip John Amaratunga has apparently said that such matters should be discussed only at the party's Working Committee meeting. MP Jayasekara has reportedly responded angrily to this remark by Mr. Amaratunga. Out of 43 MPs, 37 attended yesterday's meeting.  MP Palitha Range Bandara has also tried to make some remarks at the meeting. However, he was not been given the opportunity.
Ranil says matter outside parliamentary group – official statement
The UNP Central Bureau issued the following statement on the Party's Parliamentary Group meeting: "MP Ajith P. Perera made representations on the need to protect the unity of the party. Co-deputy leader Sajith Premadasa also spoke in this regard. Chief Opposition Whip John Amaratunga pointed out that these matters were outside the constitutionally provided agenda of the party parliamentary group. Party Leader Ranil Wickremesinghe accepting this position said that these matters should be spoken at the party Working Committee. Afterwards the parliamentary group meeting was finished."
Courtesy: Daily Mirror
Latest Headlines in Sri Lanka