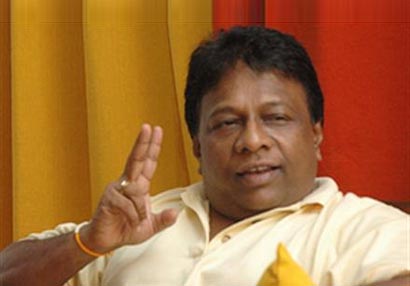 The UNP-led government was using the issue of the SLFP and the Joint Opposition (JO) holding two separate May Day rallies in Galle and Kirulapone to cover up its failures and rackets, former Minister Dullas Alahapperuma said yesterday.
Addressing the media at Dr. N. M. Perera Centre in Borella, SLFP Vice President Alahapperuma said the JO would hold a separate May Day rally in Kirulapone to protect the true values of the SLFP as well as the UPFA.
The UPFA had promised in its election manifesto, 'A guarantee for the Future' that it would not join UNP to form a government after the August 17 general election and people voted for it, but a section of the UPFA had acted in contravention of people's mandate, the former Minister said.
Alahapperuma said the goal of the SLFP since 1951 had been to be the vanguard of opposition to the UNP, but a section of the SLFP had betrayed the party's cause and joined the UNP government for personal gain.
"We organised the Kirulapone rally to take safeguard the SLFP policies and all constituent parties in the UPFA would join us in that endeavour," he said.
Alahapperuma said the UNP MPs including Sajith Premadasa and P. Harrison and Field  Marshall Sarath Fonseka had asked them to join Galle rally organised by the SLFP's faction who support the government. "We ask what right they have to ask us to join Galle rally."
The Matara District MP said there was no rift in the SLFP. Some of the SLFP MPs had joined the government according to a decision by the Central Committee and others had remained in the Opposition.
Answering a query, Alahapperuma said the SLFP could not take disciplinary actions against the dissidents as their fight was against the UNP and not the SLFP.
Former External Affairs Minister Prof. G. L. Peiris said that although President Maithripala Sirisena promised to halt unbearable taxes on people recently, the government had increased the VAT to 15%.
He said UNP tried to depict it as a mere increase from 11% to 15% but it would be imposed on many products and services which had previously been exempted and the people would suffer a heavy blow as a result.
Prof. Peiris said at present every one in three owned a vehicle and VAT on lubricant oil and spares would affect all vehicle owners adversely. The same was true of telephone bills, the former law professor said.
(Source: The Island – By Dasun Edirisinghe)