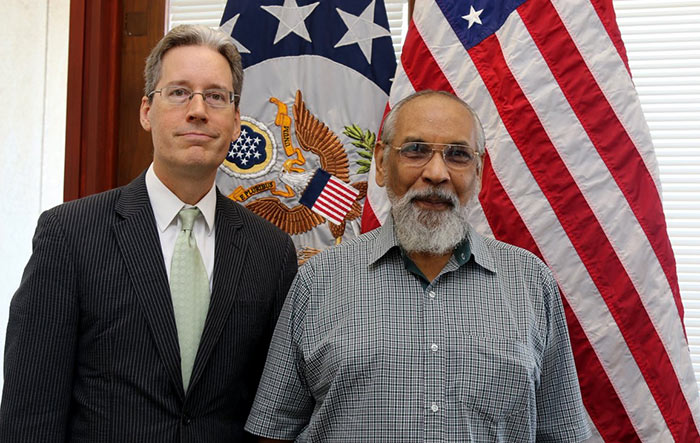 The United States today assured Sri Lanka's minority Tamil community that it will continue to support the UN Human Rights Council resolutions for an independent international probe into alleged rights abuse during the war in Sri Lanka.
The US was the main sponsor of the resolutions which was backed by a majority of the UNHRC members. Protesting perceived bias against Israel, the US in mid June announced withdrawal from the UNHRC.
Since its withdrawal, doubts have been raised about the resolutions which held Sri Lanka accountable for alleged human rights abuses committed by both government troops and the LTTE during the final phase of the military campaign in 2009.
Chargés d'affaires at the US Embassy in Colombo, Robert Hilton today tweeted, saying the commitments to the resolution facilitate Sri Lanka's expanded relationship with the US and many others nations.
He made the assurances to Chief Minister of Tamil northern province C V Wigneswaran.
"Assured Chief Minister Wigneswaran that the US continues to support Sri Lanka as it fulfils its commitments under UNHRC resolutions 30/1 (2015) and 34/1 (2017). These commitments facilitate Sri Lanka's expanded relationship with the US and many other nations," he tweeted today.
The Tamils have urged an international mechanism to probe rights abuse in the face of strong resistance from the Sri Lankan government to allow foreign judges and investigators to hear the cases of abuses.
Sri Lanka maintains that its constitution does not permit foreign judges to operate in the country. The government has assured that necessary mechanism for accountability would be set up.
As one such measure, the Office of Missing Persons has been established and a reparation mechanism is also to come into force soon.
(Source: PTI)